French soldiers based in Mali have located the wreckage of Air Algerie Flight 5017, according to Mali's president Ibrahim Boubacar Keita who said: "I have just been informed that the wreckage has been found between Aguelhoc and Kidal."
The McDonnell Douglas MD-83 crashed en route between Ouagadougou in Burkina Faso to Algiers in Algeria. Aboard the plane, chartered by Spanish airline Swiftair, were 110 passengers and six crew. There are no reports of survivors.
Although the plane was brought down in territory held by Malian rebels, a French official said he believed it unlikely that rebels could have brought down a plane at an altitude of 33,000 ft with shoulder-fired weapons. In contrast the BUK system believed to have downed Malaysia Airlines Flight MH17 over eastern Ukraine can fire missiles to a height of 72,000 ft. Burkina Faso's transport minister, Jean Bertin Ouedrago, said the pilot had asked for permission to change route some 20 minutes into the flight due to sand-storms.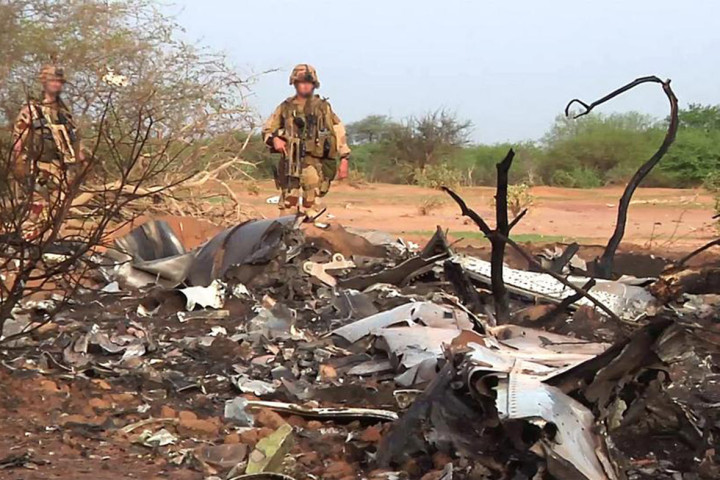 50 of those aboard are believed to be French, as well as nationals from Burkina Faso, Lebanon, Algeria, Luxembourg, Belgium, Switzerland, Nigeria, Cameroon, Ukraine, Canada, Germany and Romania. All six crew members were Spanish. Reports that Mariela Castro, niece of former Cuban leader Fidel Castro was aboard have been dismissed.
On hearing of the crash French president Francois Hollande cancelled an overseas trip and ordered all military in the vicinity to join the search for the plane.
Today's deadly air crash is the third in just eight days, following the downing of Flight MH17 with the loss of all 298 on board on 17 July and the loss of 48 people aboard a Taiwan plane which crashed in bad weather on 23 July. However experts point out that statistically flying is still far safer than almost any other form of transport.