Airbnb has deleted the accounts of several users affiliated with far-right groups who were planning to use the service to hold a white nationalist event in properties they rented on the site.
Individuals planning to attend the 'Unite the Right' rally in Charlottesville, Virginia, will have to seek accommodation elsewhere as the home-sharing service became wise to the booked event after a member of an extreme alt-right group revealed their plans online.
On the Daily Stormer website, an outlet that shares far-right content and views, it claimed that it was "intending on having a presence" at the Unite the Right event, with an affiliated individual commenting that a number of members had "taken over all of the large Airbnbs" to host the "most badass after-after-parties".
However, Airbnb's community guidelines views such activity as 'antiethical' and swiftly deleted the accounts of those who booked properties. In a statement given to Time Airbnb said: "to make good on our mission of belonging, those who are members of the Airbnb community accept people regardless of their race, religion, national origin, ethnicity, disability, sex, gender identity, sexual orientation, or age."
The comments on the Daily Stormer also included details for guests that the parties would organise "Nazi Uber" and "Hate Van" transportation and encouraged attendees to wear lapel pins "fashioned in the SS font" to resemble that worn by members of the German Nazi party.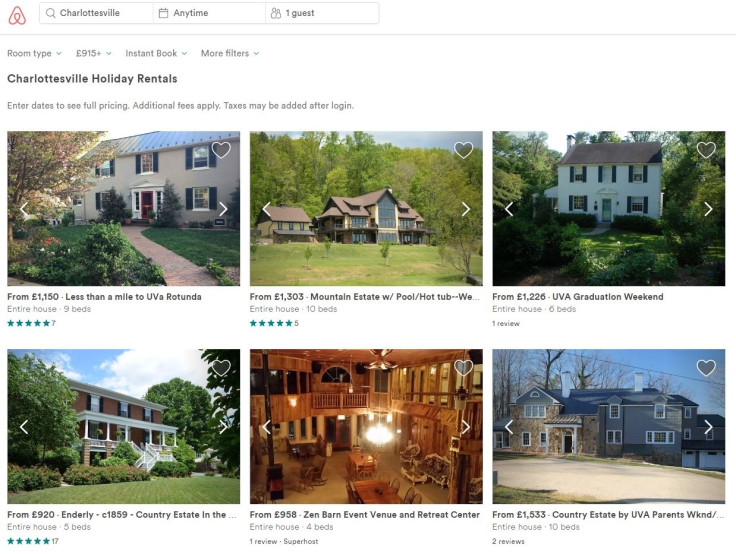 Airbnb was able to identify the individuals who were allegedly planning to hold the alt-right events using its background check procedures as well as other users who were able to provide information.
Over 300 properties are listed in Charlottesville, Virginia with several "large Airbnbs" that could have hosted a rally party. The most expensive in the area being a mountain estate advertised with pool and hot tub and sleeping 14 guests from £1,342 per night.
While Airbnb's privacy flaws have been criticised in recent months after it was revealed hackers were able to easily discover a host's personal details without much effort, the platform's efficiency in acting swiftly in line with its 'Community Commitment' has been recognised.