Environmental campaigners have built a self-sufficient squat camp called Grow Heathrow in the village of Sipson, on land designated for the third runway. The land occupied by Grow Heathrow was once a derelict dumping ground before the squatters arrived in February 2010.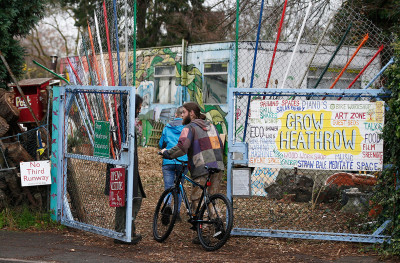 Maeve Morgan, a 24-year old student, who has been living at the camp for the past 15 months, said: "Grow Heathrow, as well as opposing the third runway also shows alternative ways of living. We have been sustaining around 60 people recently with solar panels and wind and using reclaimed wood for our fuels and this juxtaposed with the wastefulness that we see around us, as a project that educates people it has been very successful."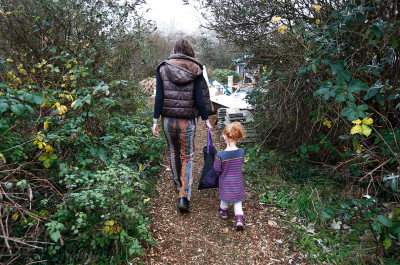 The decision on whether to build a third runway at Heathrow had been expected this week, but it has been delayed yet again. On Monday (7 December) Prime Minister David Cameron's office said he would give "clear direction" by the end of the year. The debate over where to build a new runway in the densely-populated south east has been running for over 25 years.
London Mayor Boris Johnson, a Conservative member of parliament, has said he would lie down in front of bulldozers to stop the third runway going ahead, while his potential successor as mayor, Zac Goldsmith, another Conservative MP, is also a prominent opponent to Heathrow's expansion.
In July, activists cut through Heathrow's perimeter fence and chained themselves on a runway, forcing some flights to be cancelled. In November they brought chaos to road traffic around the airport by blocking the main entrance tunnel with a vehicle.
Campaign group Plane Stupid, which is opposed to any expansion of air traffic in the UK, has already sought to disrupt Heathrow's operations in protest against the proposed new runway. "We can't have aviation expansion anywhere and stay within our carbon emissions reduction targets. Therefore it is not a case of Heathrow or Gatwick, it is a case of not at all," said spokesman and activist Cameron Kaye. "Nine out of 10 destinations out of Heathrow are to short-haul destinations that we could be getting through to by rail and by car. If we start subsidising these industries properly we will therefore be able to create a much more environmentally-friendly and practical solution rather than expanding this carbon intensive industry," he said.
Heathrow, which is operating at full capacity, argues that a new runway will improve Britain's links to other markets, adding £100 bn pounds to the economy and more than 120,000 new jobs.