Heathrow protest: Airport set for delays after Plane Stupid activists chain themselves across runway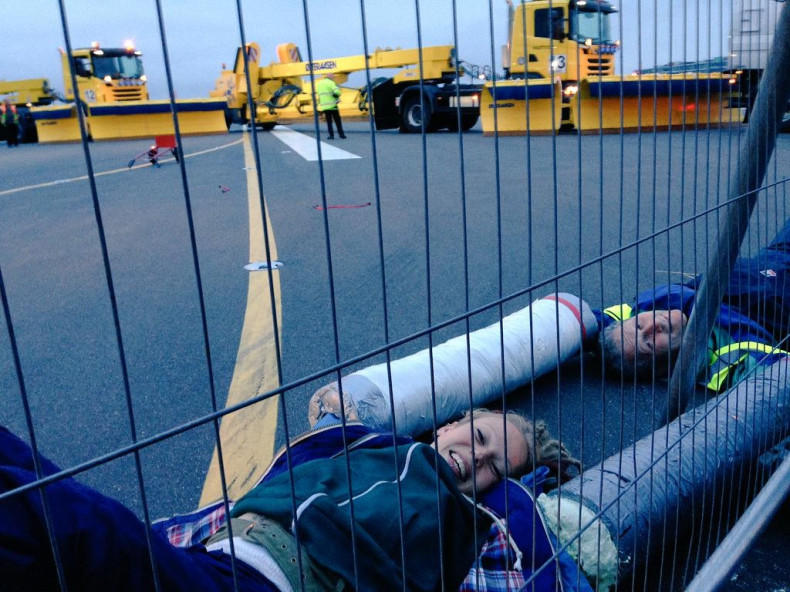 Heathrow Airport is facing delays this morning after activists from Plane Stupid chained themselves together and laid across the northern runway.
Thirteen protesters entered the grounds at about 3.30am after cutting their way through fences and are currently blocking the runway.
Three activists were reportedly been taken away from the scene by police and Heathrow Airport told passengers to check their flight details in wake of the disruption.
Both runways have since reopened with planes taking off halfway up runway to avoid protest and the Metropolitan Police has confirmed six people were arrested during the incident.
"At approximately 3:45am on Monday, 13 July, officers were alerted to a number of protesters who had unlawfully made their way airside at Heathrow Airport," a Met spokesperson said.
"There were 13 protestors in total on the North runway. Six have so far been arrested on suspicion of Aviation Act offences and taken into custody.
"Officers remain at the scene and are continuing to work to remove the remaining protestors."
Plane Stupid was protesting against the Airports Commission's decision to recommend a new runway should be built at Heathrow.
The group claims the new runway will be in breach of climate change targets and "benefits the rich" and had unfurled a banner at the scene mocking prime minister David Cameron pledge - "no ifs, no buts" - there would not be a new runway at the airport.
In a statement sent from the runway, activist Ella Gilbert said:
"Building more runways goes against everything we're being told by scientists and experts on climate change. This would massively increase carbon emissions exactly when we need to massively reduce them, that's why we're here.
"We want to say sorry to anyone whose day we've ruined, and we're not saying that everybody who wants to fly is a bad person. It's those who fly frequently and unnecessarily who are driving the need for expansion, and we cannot keep ignoring the terrifying consequences of flying like there's no tomorrow.
"No ifs, no buts, no third runway. And we mean it."
A Heathrow Airport spokesman said: "A group of people have breached the airport perimeter fence and are currently staging a protest on the northern runway.
"We are working closely with the police who are dealing with the incident. The southern runway remains open. Our priority remains to ensure the safety of the airport community, including passengers, employees and protesters".