An entire cabin of passengers walked off a US Airways Express plane in protest after a fellow blind passenger was denied a seat on the flight.
All 35 passengers on the New York-bound flight at Philadelphia International Airport disembarked the plane in a show of solidarity with Albert Rizzi, after a flight attendant escorted him off the plane following a disagreement about his guide dog.
Rizzi said the argument began shortly after boarding, when a crew member told him that his dog Doxy, who was lying in the aisle, had to be placed beneath the seat in front of him for safety reasons.
Doxy began to get restless when the plane was delayed for almost two hours and got up to reposition himself several times, ending up under Rizzi's seat.
The flight attended asked Rizzi to control his dog and a heated exchange ensued during which Rizzi is reported to have become verbally abusive.
The cabin crew expressed concern that Rizzi was not adequately controlling his dog and decided to remove him from the flight.
The decision to remove Rizzi from the plane prompted fellow passengers to demand that the flight attendant involved in the argument be taken off the plane and that Rizzi be allowed back on.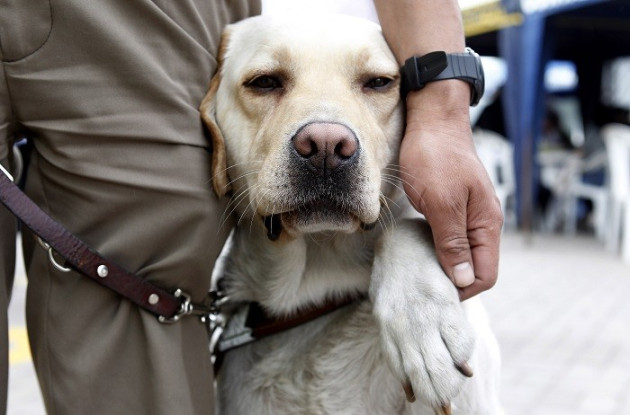 The flight was later cancelled after the pilot realised that the passengers would not budge. As a replacement, free buses were provided by the airline from Philadelphia Airport to MacArthur Airport on Long Island, New York.
US Airways said in a statement: "Mr Rizzi became disruptive and refused to comply with crew member instructions when the flight attendant asked him to secure his service dog at his feet.
"As a result of his disruptive behaviour, the crew returned to the gate and removed Mr Rizzi and his service dog from the flight. We apologise to the customers of the flight for the inconvenience. We are continuing to investigate the incident."
Rizzi, who sits on the disability board for Suffolk County, where he lives, expressed gratitude for the support he received from his fellow passengers.
"This became the most wonderful experience out of the most horrible experience," he told CNN. "I found that humanity does exist and people can do the right thing."
Rizzi said US Airways has not contacted him since the incident and that he is considering legal action.
Why was Albert Rizzi escorted off the US Airways flight? Watch the video below: