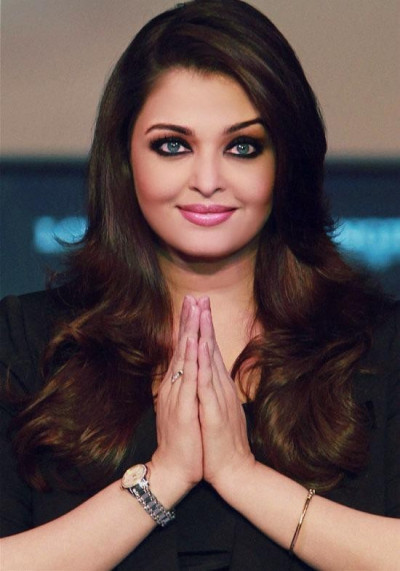 After several public appearances still carrying her post-pregnancy weight, Indian actress Aishwarya Rai Bachchan seems to have finally silenced her critics. The Bollywood star's initial reluctance to lose the extra kilos led to severe criticism from some quarters of Indian society. Now, however, it seems there is nothing left to talk about.
The 38-year-old mother (her daughter's name is Aaradhya) made an appearance at the 180th anniversary party for the Swiss watchmaker Longines, at The Taj Palace in New Delhi, last week.
Aishwarya, who has been the Swiss brand's Ambassadress of Elegance for over a decade, graced the event in a sleek, navy blue feathered dress. She completed her floor-length ensemble with a bust-length chic blazer of the same colour and the Bollywood diva looked stunningly slim and beautiful as she let her hair loose and accessorised herself subtly.
"There have been so many memories with Longines but today is a very special day. With the celebration of its 180th anniversary, Longines and I have come a long way," the former Miss World told the brand's website.
The party, held at the Indian capital, was also to launch the watchmaker's newest collection - the Longines Saint Imier Collection - along with Longines vice-president and Head of international sales, Charles Villoz. The actress wore a watch from the collection as part of the evening's promotions. The brand has described its ambassadress as "superbly" embodying its slogan - Elegance is an attitude.
"The Longines Saint Imier Collection truly depicts my long lasting association with Longines and I'm indeed proud. With its sheer design and beautiful structure, these stunning timepieces exude elegance that promises to suit every kind of wear," the award-winning former model said.
Aishwarya, who was also appointed as International Goodwill Ambassador of the Joint United Nations Programme on HIV/AIDS (UNAIDS), is expected to personify Longines' latest collection too, as the shape of the watches is inspired by a model dating from 1945 but the designs feature a contemporary twist. The collection, in that sense, is believed to reflect the actress's personality and professional success. Aishwarya is considered, within Bollywood, as an actress with a perfect mixture of classic and contemporary style.
"The Longines Saint-Imier Collection embodies a full measure of genuine tradition and heritage," Villoz said, adding the collection was "engineered to tread the line between classical and contemporary".
Click on Start to view the latest photographs of Aishwarya Rai Bachchan at Longines' 180th anniversary party