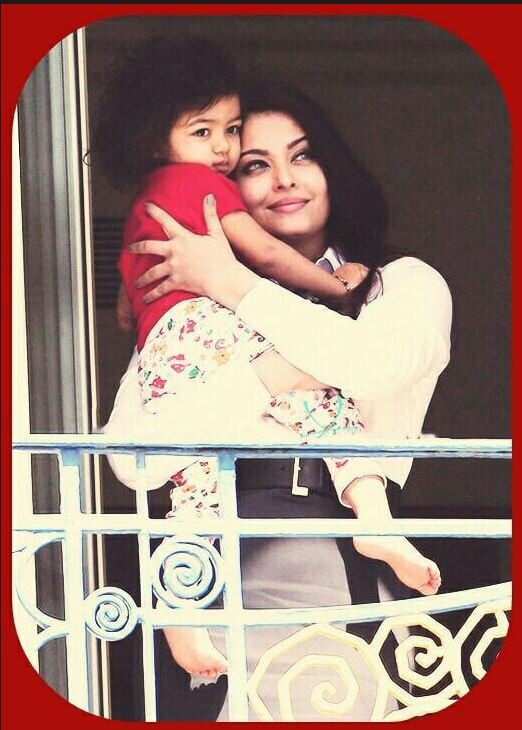 Aishwarya Rai Bachchan has been spotted playing the doting mother, while at the Cannes Film Festival 2013. The 39-year-old Bollywood star makes her 12th appearance at this prestigious event and remains one of the most consistently fashionable Indian actresses on the red carpet.
The actress was seen on the balcony of her hotel room, with her 18-month-old daughter Aaradhya Bachchan, for whom all the glitz and glamour must be all rather confusing.
During the course of the day, in a private interview, when she was asked about Aaradhya, the actress said the child was taking a nap. However, when the baby did wake up, Aishwarya promptly cut the discussion short to see to her daughter.
Aishwarya was wearing a black Zach Posen mermaid cut skirt with an Yves Saint Laurent shirt and an Armani belt at the time.
This is the second time Aaradhya accompanies her mother to Cannes and interest in the newest member of one of Bollywood's most powerful families is unlikely to disappear soon.
Aishwarya arrived in France, with her daughter, on Saturday, accompanied by her mother, Vrinda Rai.
A global style icon, the actress wore a heavily embroidered black-and-gold Sabyasachi sari on Sunday, for the red carpet screening of Bombay Talkies. Later that same day, the former beauty queen walked the carpet in a black and grey Elie Saab gown for the screening of Inside Llewyn Davis.
Aishwarya Rai Bachchan has taken a break from her acting career since the birth of Aaradhya Bachchan. However, she has since confirmed that she is working on a comeback and has already begun receiving offers.