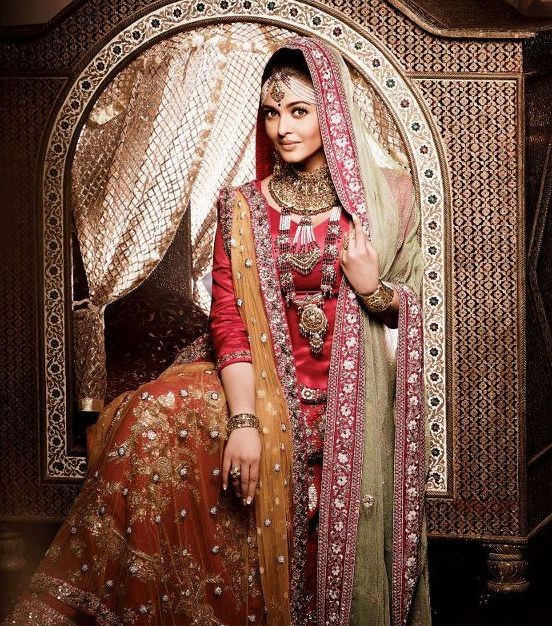 Aishwarya Rai Bachchan has made a stunning comeback to showbiz following post-baby weight gain blues.
The Bollywood star posed for a jewellery photo shoot recently for Kalyan Jewellers, one of the largest jewellery chains in India.
A former Miss World, Aishwarya Rai's photographs from the jewellery advertising campaign have been posted on the official Facebook page of Kalyan Jewellers. In the photos, Aishwarya Rai appears to have shed many extra pounds for which she was ridiculed by critics.
The 38-year-old actress, who has been dubbed as the "world's most beautiful woman" looks slimmer and even more beautiful in the campaign photos than her last engagement at the 65th Cannes Film Festival in May, which was her first public appearance post-delivery. However, she managed to firmly silence critics at Cannes too with her wisely chosen traditional Indian attire - the six-yard sari - designed by Indian designer duo Abu Jani and Sandeep Khosla.
In her comeback in the jewellery photo shoot, Aishwarya Rai is seen wearing a red lehnga, yet another traditional Indian outfit, adorned with golden zari (thread) work and paired with a quarter-sleeve blouse, running till her waist, which shows the actress back in shape pretty well.
She wears the jeweller's latest designs - tiara, necklace and bangles - in the photo shoot of the advertising film, which is said to have been made at a cost of about £174,000. Aishwarya Rai will be seen exhibiting almost 15 new brands of the jeweller's gold and diamond jewellery in the yet-to-be released advertisement, the jeweller announced in June.
In another photo, a teaser campaign with the theme Bathe in Gold, she is seen in bright yellow hues that merge with the golden water background around her. Shrikumar, who shot the commercial, told India Today: "This is the first time that I am shooting an ad with Aishwarya. What impressed me about her was her passion for detailing. There were a few underwater shots as well. For me, it has been the most memorable experience shooting with her."
Aishwarya Rai was announced the brand ambassador of the jewellery retail chain soon after she gave birth to a girl child, named Aaradhya Bachchan, in November. Aishwarya Rai is married to Abhishek Bachchan, a fellow actor and son of Bollywood legend Amitabh Bachchan.
Amitabh Bachchan also became a brand ambassador of Kalyan Jewellers in July. He shot for an advertising film for the brand in which the veteran actor plays an old teacher of a village school.
Here are two photographs of Aishwarya Rai at the photo shoot.