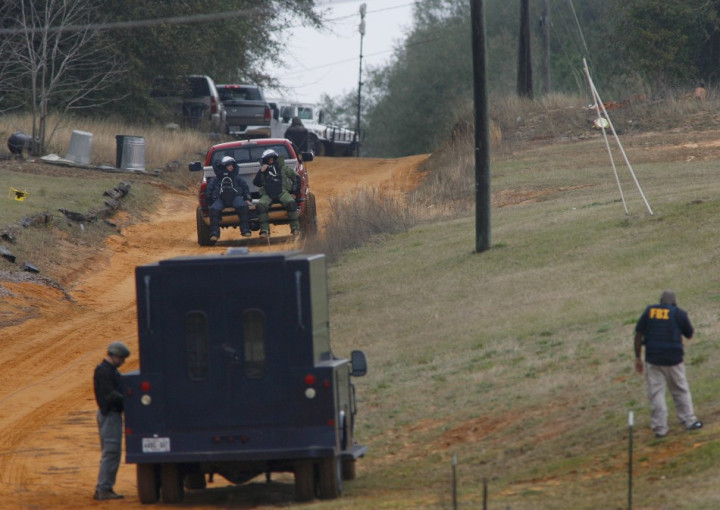 A five-year-old child who has been held hostage by a gunman in a bunker for four days, has been heard crying for his parents, witnesses have said.
As the hostage crisis entered its fourth day, police were still trying to persuade a murder suspect, identified by neighbours as Vietnam veteran Jimmy Lee Dykes, 65, to give himself up and free a little boy he has been holding hostage in a bunker beneath his home in Dale County's Midland City.
"[The child] is crying for his parents," mayor Virgil Skipper said. "They are holding up good. They are praying and asking all of us to pray with them."
The kidnapper had allowed police to send in colouring books, crayons and an important prescription medicine to treat the boy's Asperger's syndrome and attention deficit hyperactivity disorder.
Earlier this week, Dykes reportedly boarded a school bus and was challenged by the driver, Charles Poland, 66. Dykes shot him dead and dragged the child off the vehicle to a storm shelter he had built underneath his rural home.
FBI agents, Swat teams and police negotiators swooped on the area and negotiators have been communicating with him through a narrow ventilation PVC pipe since, but all attempts to make him reason have so far failed.
"The three past days have not been easy on anybody," Dale County Sheriff Wally Olson said.
According to neighbour said Dykes's homemade bomb shelter is 4ft x 6ft x 8ft and is equipped with electricity, food and TV.
"It's pretty small, but he's been known to stay in there eight days," James Arrington, police chief of the neighbouring town of Pinckard, said. "He will have to give up sooner or later because [the authorities] are not leaving."
Security activity around the house was stepped up on the fourth day of the standoff. A team in military fatigues arrived and were positioned on standby.
The reasons behind Dykes' criminal acts are still unknown and police hasn't said if the man made any request.
Dykes was said by neighbours to be a former truck driver and Vietnam vet who had moved to the 2,300-strong community of Midland City in 2011.
Neighbours said he soon revealed antisocial and violent behaviour and said he was suffering post-traumatic stress disorder, a damaging psychosis resulting from a deep psychological trauma.
Arrington confirmed that Dykes held anti-government views, as described by numerous neighbours. "He's against the government - starting with Obama on down," one said.
"He doesn't like law enforcement or the government telling him what to do. He's just a loner."
Dykes has had some previous minor run-ins with the law. He was arrested in Florida in 1995 for improper exhibition of a weapon but the charge was dismissed. He was also arrested for possession of marijuana in 2000.
The day he kidnapped the child he was due to appear in court for having allegedly shot at one of his neighbours, Jimmy Davis, during a dispute over a speed bump on the road between their two homes.