A tense standoff between US police and a murder suspect who is holding a five-year-old boy hostage in a bunker under his house has entered its third day with no sign of an end in sight.
Police are trying to persuade a gunman identified by neighbours as Jimmy Lee Dykes, 65, to give himself up. Dykes reportedly boarded a school bus in Alabama's Dale County and was challenged by the driver, Charles Poland, 66. Dykes shot him dead and dragged the child off the vehicle to a storm shelter he had built underneath his home in Midland City.
FBI agents, Swat teams and police negotiators swooped on the area but have failed to persauade Dykes to release the child or give himself up.
Authorities were communicating with the man through a PVC water pipe. It is not clear if Dykes has made any demands.
Sheriff Wally Olson said authorities had "no reason to believe that the child has been harmed".
Dykes has allowed police to send in colouring books, crayons and an important prescription medicine to treat the boy's Asperger's syndrome and attention deficit hyperactivity disorder.
The boy, who police originally believed to be six years old, was snatched at random, locals believe. "As far as we know there is no relation at all. He just wanted a child for a hostage situation," local pastor Michael Senn said.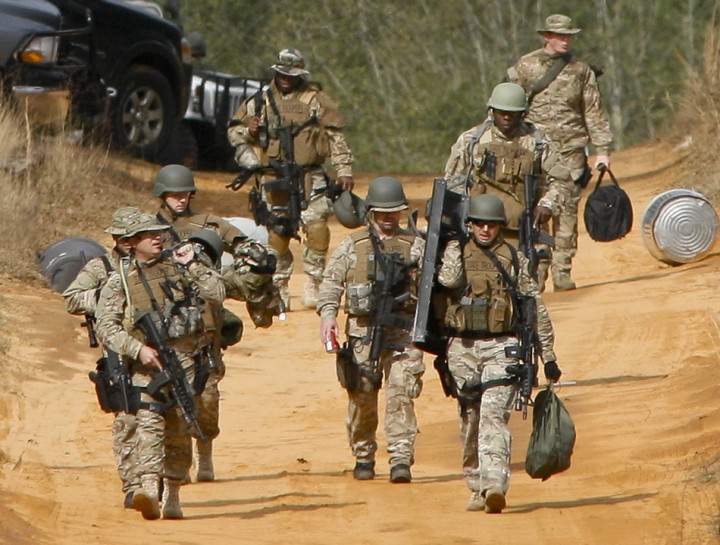 Vietnam veteran
Dykes was said by neighbours to be a former truck driver and Vietnam veteran who had moved to the 2,300-strong community of Midland City in 2011.
Neighbours said he soon revealed antisocial and violent behaviour and said he was suffering post traumatic stress disorder, a damaging psychosis resulting from a deep psychological trauma.
Sheriff's Office chief investigator Tim Byrd said Dykes was also believed to be a survivalist with anti-American views.
"His friends and his neighbours stated that he did not trust the government, that he was a Vietnam vet, and that he had PTSD," Byrd told civil rights group SPLC.
"He was standoffish, didn't socialise or have any contact with anybody. He was a survivalist type."
The day he kidnapped the child, Dykes was due to appear in court for having allegedly shot at one of his neighbours, Jimmy Davis, during a dispute over a speed bump on the road separating the two houses.
Dykes "got mad" and opened fire on Davis's truck, his neighbour told CNN. Davis's six-month-old daughter was inside the vehicle but escaped uninjured.
Dykes's neighbour, Ronda Wilbur, said the veteran beat her dog almost to death with a lead pipe because the animal was running on his property. The dog died a week later.
"He said his only regret was he didn't beat him to death [straight] away," Wilbur said.
"If a man can kill a dog, and beat it with a lead pipe and brag about it, it's nothing until it's going to be people."
In another incident Dykes threatened to shoot the children of Mike and Patricia Smith, a couple living across the road.
"My bulldogs got loose and went over there," Patricia Smith said. "The children went to get them. He threatened to shoot them if they came back.
"He's very paranoid," her husband said. "He goes around in his yard at night with a flashlight and shotgun."
Davis, a nightshift worker, said Dykes started building the bunker as soon as he moved in and used to work on it every night between 2 and 3 am.
Police believe the bunker to be equipped with electricity, food and TV but have reportedly not a clear idea of how big or deep it is.