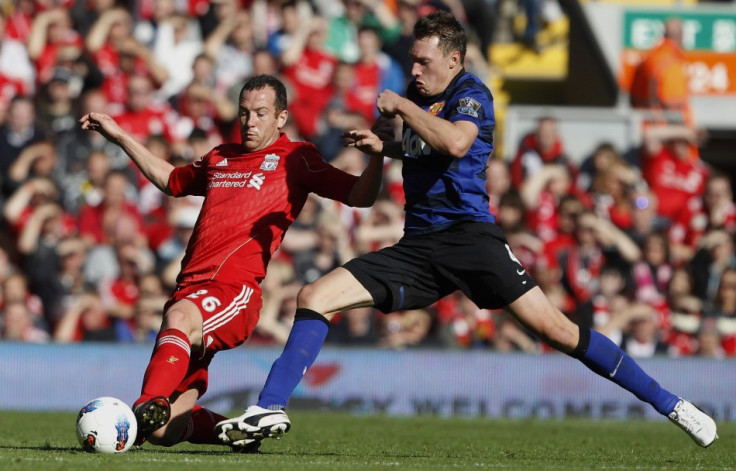 Manchester United's impressive young defender Phil Jones has the ability to match or surpass the career of Rio Ferdinand for club and country, according to Alan Hansen.
The formerly imperious Liverpool centre-half, who graced Anfield with his elegant yet uncompromising defending during the Merseyside club's most successful period, believes the 19-year-old Jones has displayed a level of skill that belies his inexperience.
Jones made his England debut last month and is in line to further his international education by facing the World and European champions, Spain, at Wembley on Saturday.
Although Hansen has been immensely encouraged by Manchester United's summer signing from Blackburn Rovers, he believes the youngster still has a few flaws in his game that will inevitably be addressed once Jones has been exposed to more top level football.
The Scot suggests it is perhaps too early to pencil in the Preston-born defender, who is equally adept at right-back or as a robust holding midfielder, as an England regular immediately, but believes more playing time alongside Nemanja Vidic at Old Trafford will hasten his already quick development.
"Phil Jones is going to be an outstanding defender, England's best hope of becoming another Rio Ferdinand, but the euros are going to come too quickly for him." The Match of the Day pundit told the Daily Telegraph.
"Because he can play at right back, centre half or holding midfielder, I expect he will be in Capello's squad (for the European Championships next summer), but there is a weakness in his game from a positional sense.
"He is not all over the place, but he is also not quite right yet.
"At the highest level, if your positional sense is wrong at the back, then you make everybody else wrong too.
"He will iron out the flaws in his game, but for that to happen before next summer, he needs to be paired alongside Nemanja Vidic at Manchester United for the rest of the season so that the Serbian can talk him into position and pass on his defensive knowledge."
Such is in the impact Jones has made this season, some seasoned observers of Manchester United have drawn favourable comparisons with Old Trafford demigod Duncan Edwards. Sir Bobby Charlton, a former teammate of perhaps the most talented and revered Busby Babe, drew the initial comparison and it has not been lost on Jones.
"It's brilliant for me to even be considered as being a player who could become as good as Duncan Edwards was,"
"It is flattering and, for young lads like myself and my team-mates to be compared to great young players of the past, it is an amazing feeling.
"People have told me about Duncan, facts and figures about him, but I obviously know what he means to this club. When you come into training in the morning, knowing that people are talking about you in the same breath as players of the Busby era, it is fantastic, but I can't let it affect me. I have to play my own game and continue to do what I have been doing so far."
Prior to his £17 million move to Manchester United in the summer, Jones was perhaps the most coveted player in English football once it became apparent his Blackburn Rovers days were numbered. Arsenal, Liverpool, Chelsea and Tottenham Hotspur all made serious efforts to prise the uncompromising young starlet away from Ewood Park, but Jones suggests Sir Alex Ferguson went that extra mile to lure him to Old Trafford.
"It was brilliant when I heard of United's interest, an incredible feeling," he told the Daily Telegraph.
"The whole experience - speaking to the manager on the phone, meeting him in person, going through the whole process of signing - was fantastic.
"Lots of clubs showed an interest in me, but United just felt right: the whole club, the set-up. It wasn't the fact that it was United, it was that I walked in here and met people, the staff and physios etc, and it just felt right.
"At Blackburn, when I knew there was interest from bigger clubs, I said to myself that if it [a move] happens then it has to feel right, and this felt right."
He added: "I wanted to come here and play. I didn't want to come from playing every week at Blackburn to becoming a bit-part player at United, but I knew I probably had to do that at the start.
"I wanted to come to United because I felt that the club was right for me, so if I had to wait, I was prepared for it."