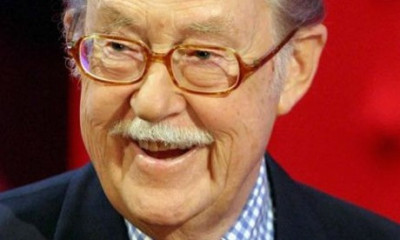 British broadcaster and journalist Alan Whicker has died aged 87.
The veteran TV star died at his home in Jersey in after contracting bronchial pneumonia.
Whicker, whose career spanned nearly six decades, was best known for his long-running documentary series Whicker's World.
The show was a combination of travelogue and social commentary and is one of the longest-running series in British television history.
During the series, which ran from 1959 to 1988 on both the BBC and ITV, Whicker travelled the globe reporting on the bizarre and controversial and interviewed everyone from monks to dictators.
He broke barriers with his controversial 1969 visit to Haiti, where the notorious dictator François 'Papa Doc' Duvalier and his henchmen The Tonton Macouttes held absolute power, and his interview with former Paraguayan dictator Alfredo Stroessner in 1970.
The show inspired a famous Monty Python sketch about Whicker Island, which was populated by Alan Whicker lookalikes.
Former Monty Python star and now travel writer and presenter Michael Palin paid tribute to a 'great character'.
"Alan Whicker was a great character, a great traveller and an excellent reporter. He was absolutely at the top of his game in front of the camera," he said.
Born in Cairo in 1925, Whicker became a journalist after the Second World War with news agency Exchange Telegraph and worked as a correspondent during the Korean war.
In 1957 he joined the BBC , where he became a correspondent for the flagship current affairs show Tonight before launching Whicker's world.
He retired from full-time broadcasting in 1998 but returned to the spotlight 10 years ago in a series of adverts for a travel company, coining its slogan "Hello world".
In 2009, he re-visited some of the people and places he had filmed over the decades for the BBC series Alan Whicker's Journey of a Lifetime.
In 2005, he was made a CBE by the Queen for his services to broadcasting .
Whicker is survived by his partner of 40 years Valerie Kleeman.
IBtimes UK takes a look back at the broadcasting legend over the years..