A group of Albanian drug dealers carried almost £180,000 ($240,000) through London in an Asda carrier bag. The men have been sentenced to a combined 17 years in prison for drugs and money laundering charges.
Covert police officers watched as Roland Vasija, 20, carried the Asda bag-for-life down Hennicker Road, east London, and deposit it into a BMW driven by his accomplice Algert Lami, 23, on 24 March this year.
Police then swooped in on the vehicle and searched it. They found £178,000 in mostly £20 notes in the bag as well as half a kilogram of cocaine in the glove compartment.
They also found fake identity documents belonging to Lami, several mobile phones and assorted drug paraphernalia.
Orjon Uku, 22 was also arrested after being observed chatting to Lami as he sat in his car on Stratford Road for twenty minutes before the drop-off was made.
A property connected to Uku contained three blocks of white compressed powder wrapped in plastic along with scales, latex gloves and drug cutting equipment.
The operation was conducted by the Organised Crime Partnership, a joint initiative between the National Crime Agency and Metropolitan Police Service.
On 17 May Lami pleaded guilty to conspiracy to supply class A drugs, possession of false identity documents and fraud by deception. He and Vasija also pleaded guilty to conspiracy to launder £178,000. Uku pleaded guilty to possession with intent to supply class A and class B drugs.
The men, who were living in London, were sentenced to nine, two and six years in prison respectively at Kingston Crown Court on 7 September.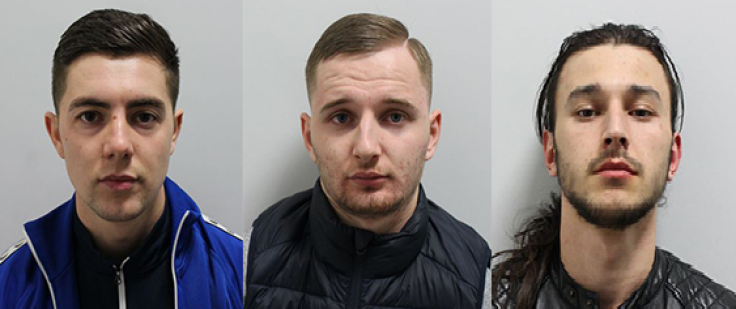 Steve Miles, from the Organised Crime Partnership, said: "Every organised crime group which trafficks drugs is a business which relies on cash flow. If any business loses an expensive commodity in the middle of a transaction, that cash flow stalls on both sides.
"That means a loss of investment in other criminal activity, the inability to pay their own people, damage to trust and credibility between criminal groups and loss of face and status with their peers, making it harder for them to do business together in future.
"Taking a substantial amount of money out of the chain as we have done here makes life far more difficult for criminals to do business and I believe our actions have caused significant disruption to this group."