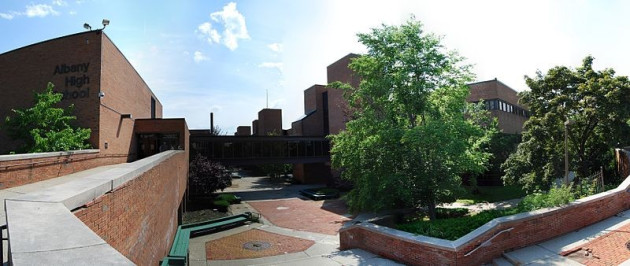 Pupils at a US high school were asked by their English teacher to argue that Jews were the source of Nazi Germany's problems in a writing assignment that has sparked a furore.
A teacher at Albany High School in New York instructed 10th-grade students to pretend she was a member of Adolf Hitler's government and challenged them to prove their loyalty to the Nazi regime by writing down in five paragraphs why Jews are evil.
"[Write] an essay convincing me that Jews are evil and the source of our problems," the assignment, a copy of which has been published by the Albany Times Union, read.
"Please remember: your life [here in Nazi Germany in the '30s] may depend on it."
The line of argument had to follow Greek philosopher Aristotle's famous modes of persuasion: Logos (reasoning), pathos (emotion) and ethos (credibility).
A third of the students reportedly refused to complete the assignment.
Schools superintendent Marguerite Wyngaard swiftly apologised but also spoke in defence of the teacher, saying the assignment was not anti-Semitic.
"I would apologise to our families," she said. "I don't believe there was malice towards our families of Jewish faith."
The assignment was set to challenge students to make an argument based on limited information, Wyngaard said. But she conceded that it should have been worded differently.
School district officials were considering whether to take disciplinary action against the teacher, who has not been named.