AC Milan have potentially missed their opportunity to sign Liverpool playmaker Alberto Aquilani, according to the player's agent.
The Italian made 28 appearances during the last campaign for the Rossoneri, but failed to activate a clause in his contract allowing him to join the Serie A runners-up.
Aquilani now returns to Anfield with his future at the club in a precarious position under Brendan Rodgers, who is yet to decide on whether the 27-year-old is in his plans.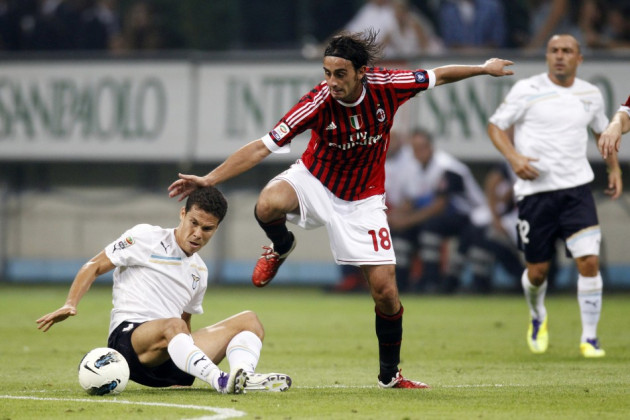 "The new Liverpool coach will decide Alberto's fate," Aquilani's agent Franco Zavaglia told Italian radio station Radio Mana Mana.
"We will have to wait and see what he thinks about the player and whether Alberto will be of any use to the Reds.
"Alberto has a contract at Liverpool for another two years and they will let us know about their intentions soon.
"He would be happy to stay at Liverpool if he was given the right opportunities."
Rodgers is the fourth different manager to take charge on Merseyside since joining the club from Roma in 2009.
After being brought by Rafa Benitez as a replacement for Xabi Alonso, Roy Hodgson's appointment 12 months later saw Aquilani loaned out to Juventus for 12 months.
Having returned to find Kenny Dalglish in charge of the club, Aquilani was again loaned out, this time to rivals Milan, where he appeared likely to stay after an appearance clause was written into his contract.
However, he is now set to return to England before finding out where his Reds future lies.
With Rodgers set to make a decision, Zavaglia says that if Milan had wanted to sign Aquilani permanently, they might have missed their chance.
"If Milan had wanted to sign him then they should have made their move sooner," he said.
Rodgers has already welcomed back Joe Cole from his loan spell with Lille, after the England international's wretched spell at Liverpool, but has allowed Dirk Kuyt to leave the club for Fenerbahce.
Aquilani's desire to leave the club could be enhanced by the confirmation of an intension to sign Gylfi Sigurdsson from Hoffenheim, however his retention of Cole suggest the Northern Irish boss could hand him a second chance.