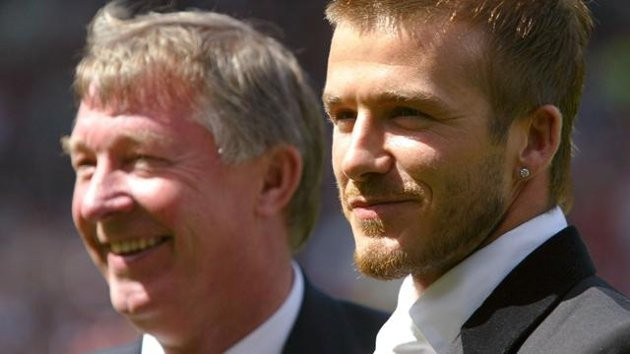 Former Manchester United manager Sir Alex Ferguson has opened up about the collapse of his relationship with David Beckham - and painted Posh Spice as the villain of the piece.

In his latest autobiography, Ferguson claims that it was Beckman's marriage to former Spice Girl Victoria Beckham in 1999 that ultimately led to him being sold to Real Madrid for £25m in the summer of 2003.
"He fell in love with Victoria - that changed everything," Ferguson said at a press conference to launch the book.
According to Ferguson, who oversaw the departure of several big-name players including David Beckham, Roy Keane and Ruud van Nistelrooy during his reign at Old Trafford, Goldenballs became hungry for fame and thought he was bigger than the club.
"He wanted to give it all up for a new lifestyle, for stardom...David was the only player I managed who chose to be famous, who made it his mission to be known outside the game. He thought he was bigger than Alex Ferguson.
"The minute a Manchester United player thought he was bigger than the manager, he had to go."
After his departure from Manchester United, Beckham went on to enjoy success at Real Madrid, LA Galaxy, AC Milan and Paris Saint-Germain. But despite becoming a global star, Ferguson believes that he might one day regret his choice to choose fame over football.
"For my money, after the change, he never attained the level where you would say: that is an absolute top player," Ferguson said.
"From one perspective, it would be churlish of me to say he made the wrong decision, in the sense that he's a very wealthy man. He's become an icon. People react to his style changes. [But] at some point in his life, he may feel the urge to say, I made a mistake."
Ferguson admits that he still has concerns about the celebrity lifestyle that the father-of-four has now become accustomed to.
"It has been interfering with his life and you can't have that. You have got to be in control of the situation.
"You are a footballer and your wife's job is different from yours. There is nothing worse than when you pick up a paper and see, "Oh Christ, where is he now?"'
Beckham has not commented on Ferguson's comments.