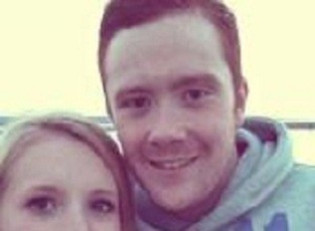 A pizza parlour customer broke a 23-year-old man's jaw because he was ginger in what police have described as a "serious unprovoked assault".
Alex Kosuth-Phillips was attacked outside a branch of Pizza Land in Selly Oak, Birmingham. He needed surgery and metal plates inserted into his jaw.
West Midlands Police have found no leads after 11 months of investigating the case and have released CCTV footage of the attack in the hope that someone will recognise the perpetrator.
Kosuth-Phillips, a sales assistant from Chester, had been visiting his girlfriend who studied at Birmingham University.
He said: "I had been out celebrating my birthday with my girlfriend, and we went into the shop to order a pizza.

"All I remember is walking into the pizza parlour and there were two of them sat on the left-hand side.
"One of them said something to my girlfriend. I asked what he said and he started swearing, becoming abusive and mocking my ginger hair.
"He swore at me and called me a 'ginger p***k'. I said I didn't need it and I was leaving.
"All I remember was opening the door and the next thing I knew I was in hospital, where I had to have two lots of surgery."
Following the surgery, Kosuth-Phillips lost 3st (19kg) and had to live on soft foods only for three months.
DC Louise Corcoran said: "This was a serious, unprovoked assault which left an innocent man knocked out cold and requiring surgery.
"The offender walked into the shop and made an offensive comment to him before hitting him in the face.
"It's had a lasting effect on the victim, who has been left physically and emotionally scarred by the assault. We need to catch the person responsible and ensure justice is done."