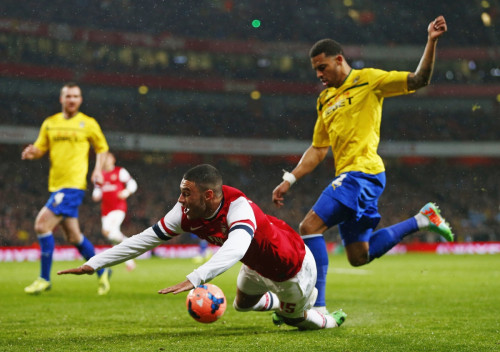 Arsenal midfielder Alex Oxlade-Chamberlain is revelling at the prospect of being likened to Steven Gerrard but believes that he has a lot to live up to in order to reach that level.
The 19-year-old has only just returned from injury after spending five months on the side lines after rupturing his knee ligament in the first game of the season.
The former Southampton man is among the brightest young talents in the England squad and is likely to make the journey for the FIFA World Cup in Brazil.
The midfielder will have a major part to play in the squad if the Gunners have to win the title, with Theo Walcott out for the rest of the season. The player made his first start in over six months against Coventry City in the fourth round of the FA Cup where they beat the League One side 4-0 to progress into the next round against Liverpool at the Emirates.
"I was about surprised by that because Stevie has been one of my idols and someone I have always looked up to ever since I watched football," Oxlade-Chamberlain told www.arsenal.com.
"To be in the England squad and have him as my captain, I get to see how professional he is and how good he is. He is a bit older now, but he is still doing the things I remember him doing when I was young. To be able to do that so consistently, for so many years at such a high level, is credit to how good a player he really is.
"If the boss thinks I can one day maybe form my game around him, [it] is a massive compliment. He is someone I would love to emulate. I would be slightly different to the way he plays [that role], but if someone says you are going to be nearly as good as Stevie, you are going to take it. It is a nice compliment," he concluded.