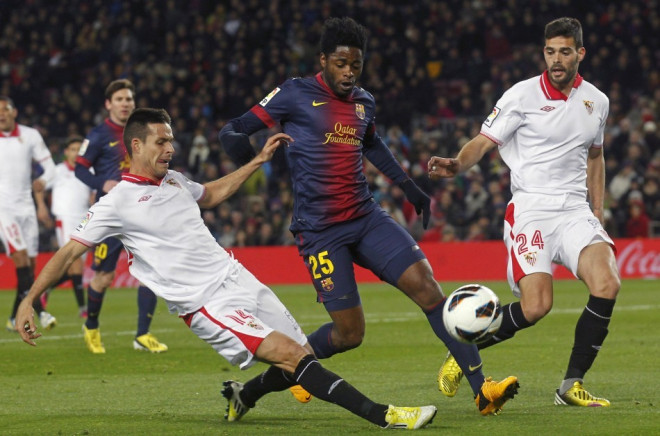 Barcelona midfielder Alex Song has revealed that he keeps in contact with Arsenal boss Arsene Wenger as reports claim he could return to the Premier League in the near future.
The 26-year-old grew into a pivotal player for the Gunners during his seven seasons in north London but he has failed to replicate that form at Barcelona, after the Catalans paid £16m to secure his services in the summer of 2012.
Song doesn't talk about his future plans but in an interview with Spanish newspaper El Pais he admits that Wenger has been a crucial figure in his career.
"When I played at Arsenal we talked a lot. He was my coach, but he was also like a father because he helped me and taught me a lot of things about the Premier League, that is the best league in the world . Now we still communicate with each other occasionally."
Following Cesc Fabregas' departure from the Emirates to the Nou Camp, Song took the lead in the Gunner's midfield, starting 34 Premier League games in his last season at Arsenal. However, at Barcelona he has started just eight La Liga games this season having managed just 17 in his debut campaign at the Catalan side.
Asked about how is he dealing with his lack of appearances he said: "All I want is to work hard and give the best of myself.
"Barcelona are the best team in the world. Busquets is one of the best midfielders in the world and I am very happy to play with him and with the rest of my team-mates", Song added.
This is football. I have to stay focused to be ready for my chances. I know sometimes it's hard not to be on the line-up but the coach can't play with 20 players".
Despite Song's quotes recent reports claimed that Song is likely to return to the Premier League, with both Arsenal and Manchester United having been linked with his services.