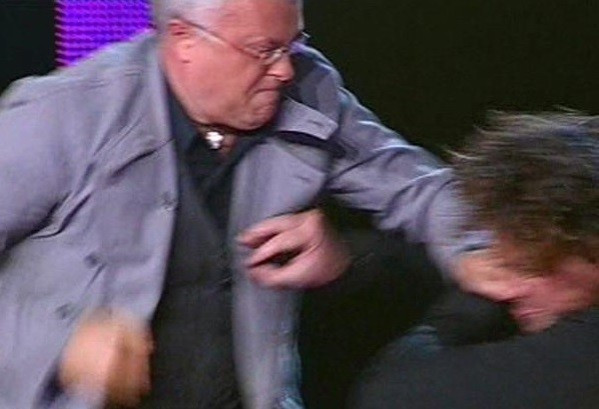 The Russian owner of the London Evening Standard and Independent newspapers, Alexander Lebedev, has avoided a jail term after being convicted of battery for punching a guest on a TV show in 2011.
Lebedev, a former KGB spy and vocal critic of President Vladimir Putin, was sentenced to 150 hours of community service in a Moscow court after a more serious charge of "hooliganism motivated by political hatred" was dropped. He could have been jailed for five years if found guilty on that charge.
Lebedev, 53, who owns a mojor stake in Russia's opposition paper, Novaya Gazeta, had voiced concerns that he would be jailed.
His accuser, property mogul Sergei Polonsky, sacked his lawyers and asked the trial judge to drop the hooliganism charges because he feared the defendant "would not hold up in jail".
"In this crazy world, according to official statistics, 35% of people are psychologically unbalanced," Polonsky wrote on his Facebook page before the verdict was announced. "In court we see that Lebedev behaves normally and isn't throwing himself upon anyone with his fists.
"I ask [ther judge] not to issue a guilty verdict to Lebedev because he won't hold up in jail, and for him a fine isn't a real punishment. I ask you forgive Lebedev for his psychological imbalance."
The charges date to an appearance on the state-run NTV network in September 2011 in which Lebedev responded to goading from Polonsky by walking over and striking him, knocking him off his stool.
Lebedev's lawyer Genri Reznik said his client would appeal against the sentence. Lebedev would continue his normal business activities, said Reznik.
"The only thing they wanted Lebedev to do was to leave Russia," said Reznik.
Lebedev had suggested that his trial was motivated by revenge for his criticism of Putin's government.
Lebedev commands a business empire worth some £700m, with interests in banking, energy, aviation and hotels as well as the media.