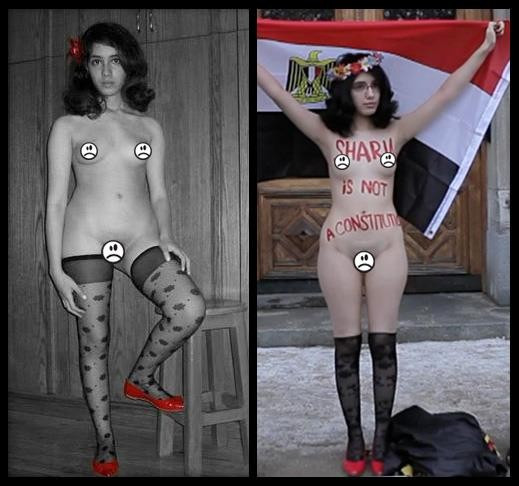 An Egyptian man has called on the general prosecutor to strip the citizenship of naked blogger Aliaa Magda Elmahdy after she staged a nude protest along with members of the Femen radical feminist group against the Egyptian constitution.
The plaintiff, Mahmoud Abdel Rahman, accused Elmahdy of "tarnishing the image of Egypt and deriding religion", according to Al Arabiya.
Elmahdy, who last year caused a controversy across the Arab world for posting nude pictures of herself online, posed naked with "Sharia is not a constitution" painted on her body along with other two Femen activists. The protest was held outside the Egyptian embassy in Stockholm.
Rahman, who provided the prosecutor with the video of the protest, stated that Elmahdy "wrote on her naked body statements condemning the constitution".
The activist told Egyptian daily independent al-Watan that she faces jail or even death if she goes back to her country.
She accused Egyptian liberals, who blamed her for undermining their cause and giving Islamists a pretext to restrict power of expression, of double standards.
However Elmahdy, who was given political asylum in Sweden, still hopes to return to Egypt.
"I would like to continue my struggle for freedom from Egypt, but right now I will do so from abroad," she said.
Elmahdy, a former student at the American University of Cairo, made a name for herself with her naked blog postings that she said were a "scream against a society of violence, racism, sexism, sexual harassment and hypocrisy".
Now described as an anti-Islamist Egyptian activist by Femen, the blogger was criticised by together Arab Islamists, liberals, seculars and leftists.
Egyptian TV Satirist Bassem Youssef Investigated for President Mohammed Mursi Mockery