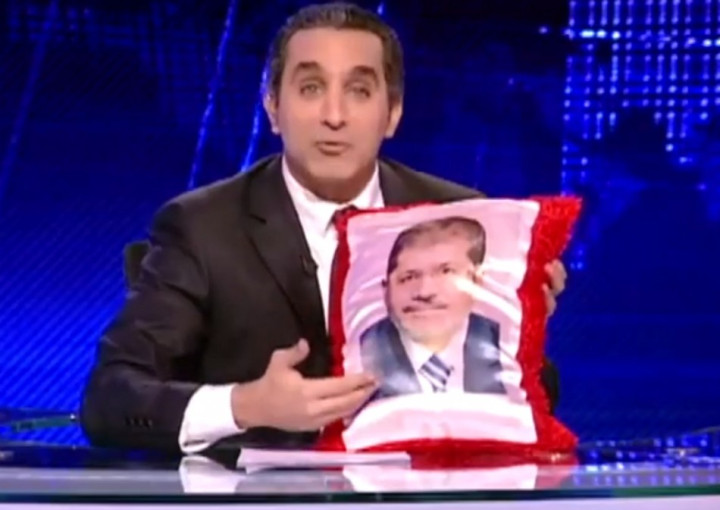 Egyptian prosecutors have initiated an investigation against popular television satirist Bassem Youssef after he allegedly insulted President Muhammad Mursi.
The investigation follows a formal complaint by an Islamist lawyer who claimed Youssef insulted Muslim Brotherood leader Mursi, "undermining his standing" by parodying his speeches while holding a red pillow bearing the president's portrait.
Known as the Egyptian Jon Stewart, Youssef satirised the frequent use of the word "love" made by Mursi during his public speeches.
The "insulting" sketch was part of an episode of Youssef's Al Bernameg (The Programme), broadcast last month.
Insults to public authorities have been made illegal by Egypt's controversial new Islamist-leaning constitution, which passed into law in December.
"The greatest threat to freedom of expression over the last four months has been this rise in criminal defamation cases, whether it is on charges of defaming the president or the judiciary," Heba Morayef, Egypt director of the New York-based Human Rights Watch, told Reuters.
"The problem now is we are likely to see an increase in this because criminal defamation is now embedded in the constitution."
Youssef became highly popular in Egypt in the wake of the revolution that toppled former president Hosni Mubarak in 2011, through a series of internet videos in which he mocked prominent public figures including some Muslim scholars.
"I don't criticize, I satirize. I make fun, which is even more shocking. Whoever is in authority will have to deal with our programme," Youssef told Al Arabiya last month.
"Our right wing here in Egypt is different from the U.S. because people here are more emotional about religion, they can't differentiate between politics and religion. The Muslim Brotherhood and the Salafis are the right wing, I don't deal with them as religious groups but as political groups."
After finding fame on the internet, Youssef, a former doctor, then started his own show Al Bernameg, which is modelled on Stewart's The Daily Show and broadcast three times a week on the satellite station CBC.
He has 1.4 million fans on Facebook and about 850,000 Twitter followers. However his satire has been the subject of repeated complaints from viewers.
Egyptian Demands Naked Blogger Aliaa Elmahdy's Citizenship be Stripped