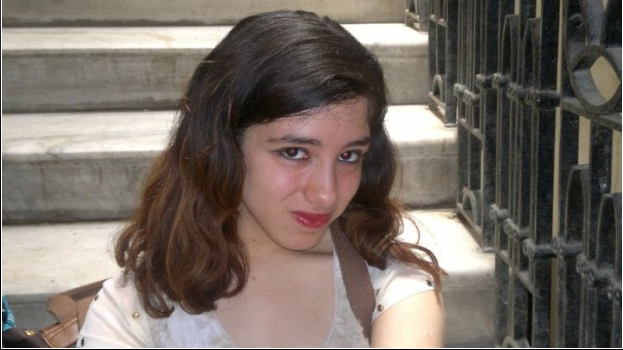 Egyptian blogger, Aliaa Magda Elmady who published a series of naked pictures on Twitter in a protest against Islamism has sparked a heated debate on Twitter.
The hash tag #NudePhotoRevolutionary went viral after Ahmed Awadalla, who works in the field of human rights, health, sexuality and gender tweeted: "@3awadalla: A feminist #Jan25 revolutionary posted her nude photo on the internet to express her freedom. I'm totally taken back by her bravery".
It referred to Aliaa Magda Elmahdy, 20, who posted in eight naked pictures on her blog with the aim to "screams against a society of violence, racism, sexism, sexual harassment and hypocrisy," as she wrote on Facebook.
Nearly 1,000 people subscribed to her Facebook page in the past few days and on Twitter the topic is still going strong.
Different reactions started to pour from @abraralshammari who said "@3awadalla I think she really is brave. Nudity is natural and she's sending a message: abandon past notions of nudity being shameful" to @ReemAwad who tweeted: "@3awadalla I don't see it as bravery, but lack of modesty."
Amanda Banoub, an Egyptian-American actress who was featured in Nox Magazine defended the young woman saying that "people are angered by Aliaa because she displayed genuine purity & modesty without a single layer of clothing".
She added that "nude art is the reflection of humanity. It's not about like or dislike. It's about observation and connection".
Aliaa Magda Elmahdy: The Nude Blogger and Her Lover
Aliaa, student at the American University of Cairo, defines herself as "Secular, Liberal, Feminist, Vegetarian, Individualist Egyptian". In a tweet, she said "I took my nude photo myself in my parent's home months before I met @Kareemamer [her boyfriend] and I'm atheist since I was 16".
"I'm very impressed and inspired by your courage. The revolution in Egypt needs to be a catalyst for greater freedom of expression," wrote an anonymous commenter. "It's your body and it's entirely up to you how you choose to express yourself."
However, some people fear that Elmahdy's pictures might affect the revolutionary image. "Egyptian liberals will now be seen as pro-nudity, and that could really damage their election campaign," said Ruwayda Mustafah, blogger for the Huffington Post and Global Voices.
Award winning journalist Ethar El-Katatney said that "do feel sorry for her" because she is "barely 20 and misguided. This will shadow her forever".
"All those "cool" #egyptian men applauding #nudephotorevolutionary let me see the applause when ur wife, sister or girlfriend drops her pants!" tweeted @MayAbdelAsim.
Others are more cautious in assessing her daring move. @joealphi tweet "Maybe she has a point but expressed it in a wrong way and country ... but she succeeded on reaching out her voice"
Some people even criticised the artistic nature of her pictures. "The lighting is aweful & the composition is dreadful break all the social boundaries you want, but don't call it ART," tweeted Lilian Wagdy, an Egyptian artist.