Bill Murray has given his thoughts on the idea of a female-led Ghostbusters reboot, even suggesting some names for the project.
News of the proposed reboot broke in early August, with Bridesmaids director Paul Feig reportedly being sought for the job, giving new life to the long-gestating prospect of a third film in the beloved 1980s series.
Veteran actor Murray is one of the reasons a third film has taken so long to come to fruition, as he's repeatedly turned down offers citing poor scripts and stated he didn't want to be a part of it.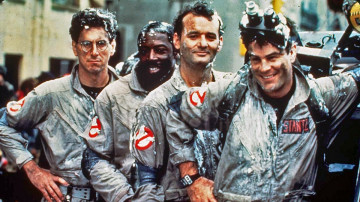 Now a film exists that he doesn't need to be part of, the comic seems very enthusiastic about the idea. Speaking to Access Hollywood (via Shmoes Knows), he said: "It sounds great to me. It sounds as good an idea as any other! There are a lot of women that could scare off any kind of vapour.
"No, it's a grand idea, I don't know who they're talking about but it's a good idea, I would watch it. I mean, I love Robert Palmer's videos, so why wouldn't I love the female Ghostbusters?"
Murray even had some suggestions for who to cast, citing four well-known funny women in particular – including Bridesmaids' standout actress Melissa McCarthy, who is the odds-on favourite to star in the film for Feig, a director she has worked with twice before.
"Melissa would be a spectacular Ghostbuster. And Kristen Wiig is so funny — God, she's funny." he suggested. "I like this girl Linda Cardellini a lot. And Emma Stone is funny. There are some funny girls out there."
Cardellini's inclusion is interesting given how little known she is to the general public. The actress made her name in cult TV show Freaks And Geeks (which Feig wrote for coincidentally) before roles in the two live action Scooby-Doo movies, a stint on TV series ER and a string of guest appearances on Mad Men.
She'd be a great addition to the cast, while the talents of McCarthy, Wiig and Stone speak for themselves.
Murray's enthusiasm is good to see, especially for a project that initially drew some criticism from fans, but studio executives shouldn't take it as a sign that he wants to participate. That's still as unlikely as ever.