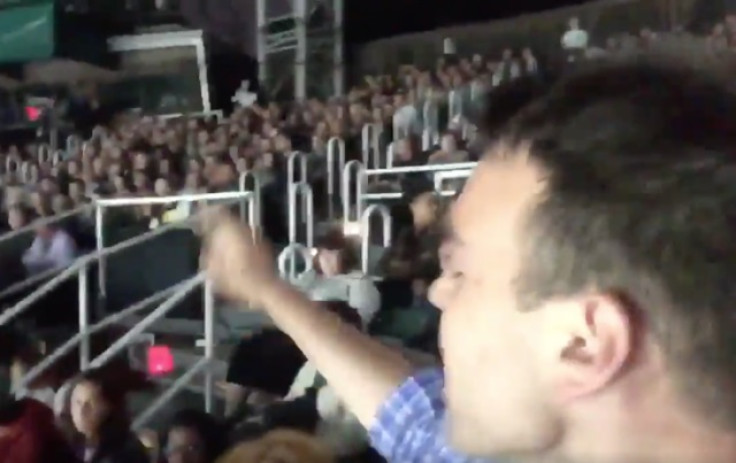 Protesters have attempted to disrupt a performance of Shakespeare in the Park's Julius Caesar in which the characters appeared to have been inspired by Donald Trump and his wife Melania.
The show in New York has already come under some controversy as the actor who portrays the Roman empire resembles the US president, complete with "strawberry blonde hair teased and coiffed".
For those who you who do not know your Shakespeare - or history - Julius Caesar ends with the Roman emperor getting assassinated.
Despite previous productions of the play being performed with the title character resembling former presidents Barack Obama and George Bush, this year was met with backlash from Trump's children, with Donald Trump Jr saying the play is "glorifying the assassination of our president".
The controversy has resulted in sponsors pulling out of their backing of the production.
During a recent performance, Laura Loomer, who works for the alt-right website The Rebel, can be seen interrupting the show by getting on stage and shouting "Stop the normalization of political violence against the right".
After being jeered by the crowd and getting removed from the stage, fellow alt-right blogger Jack Posobiec– who filmed the incident - stands up and yells to the crowd: "You are all Goebbels" and "Goebbels would be proud," referring to the former Nazi Minister of Propaganda.
Following the disruption, the play's director Oskar Eustis said: "Two protesters disrupted our show tonight; we stopped the show for less than a minute and our stage manager handled it beautifully.
"The staff removed the protesters peacefully, and the show resumed with the line 'Liberty! Freedom!' The audience rose to their feet to thank the actors, and we joyfully continued. Free speech for all, but let's not stop the show."