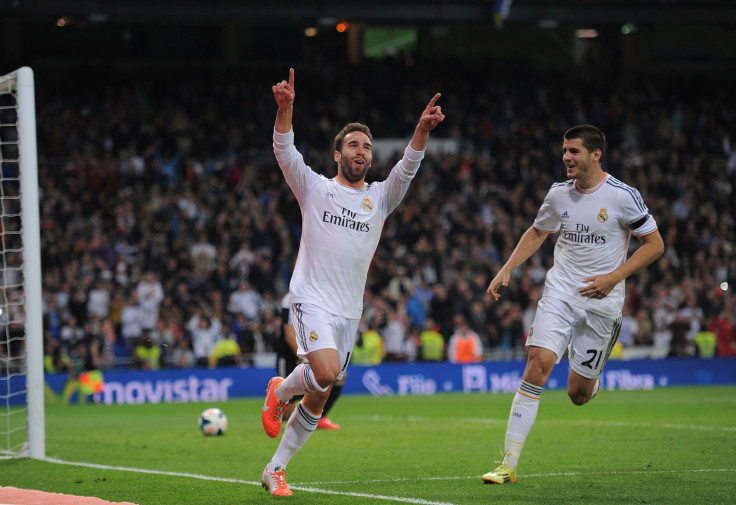 Dani Carvajal has admitted Alvaro Morata's expected departure from Real Madrid will improve his chances of playing for Spain at the 2018 World Cup. The comments come a day after the striker's agent confirmed that his client has received a "very, very important" proposal to join Manchester United ahead of next season.
Morata returned to Real last summer transfer window after Los Blancos activated a buy-back clause in his contract at Juventus.
However, the Spanish international is reportedly likely to make a new move this summer after being restricted to only 19 starts throughout the whole of last season.
His agent, Juanma Lopez, has confirmed that United are likely to lure him to Old Trafford, with Jose Mourinho being the manager who handed the Spaniard his first-team debut with Real back in 2010.
Cadena Ser is reporting that United are expected to launch an offer in the coming hours to complete his signing in a deal worth around €80m (£70.5m, $89.7m).
And Carvajal would understand if his teammate decides to leave Real in order to increase his chances of playing in the World Cup next summer in Russia.
"If I put myself in the skin of some players who does not play much and who wants to enjoy the World Cup, then maybe the option to leave may be the best one. Or maybe not. You never know, but I always hope for the best for him," Carvajal said when asked by Minuto0 about Morata's potential move to United.
Morata has regularly been selected by Spain manager Julen Lopetegui since he took over Vicente Del Bosque but Chelsea striker Diego Costa is currently first choice in attack.
Meanwhile, Carvajal lamented Pepe's cloudy departure from the 12-time European champions after the Portugal international recently expressed his frustration over the lack of playing time under Zidane during the run-in.
"I am sorry that he didn't get a game at the Bernabeu so that the fans could have cheered and waved him off, his farewell came under a cloud," Carvajal said. "These [statements] are decisions that each player makes according to the personal relationships he has with the coach and the club."