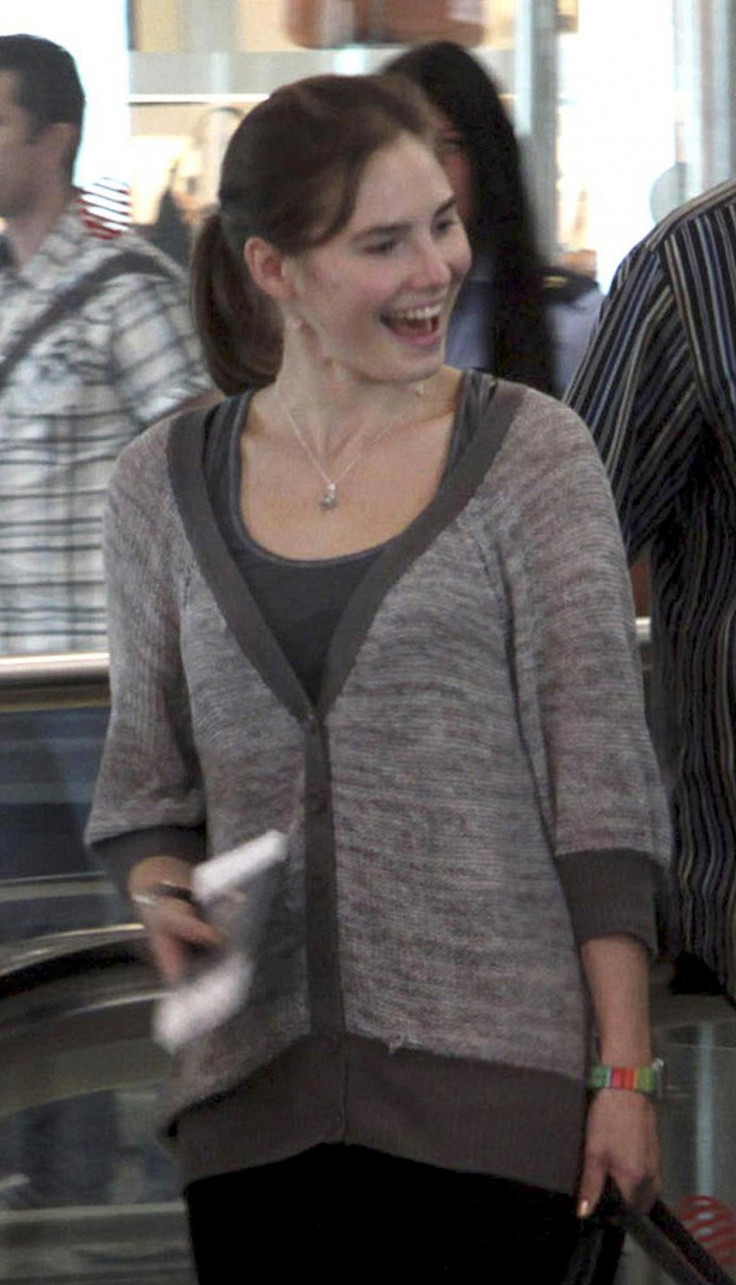 Amanda Knox left the United States as an unknown 20-something-year-old student. She returns as one of the more recognizable names, for now, in the country. Knox, now 24, was recently cleared of any involvement in the brutal murder of her flat mate, British exchange student Meredith Kercher, while the two of them were rooming together in Perugia, Italy, as part of a student exchange program.
Knox left Italy for her home in Seattle, Washington, as soon as she could; less than 24 hours after her successful appeal, though, she was already being called on by a number of media organizations, who were willing to offer her up to a million dollars, for the first exclusive interview. In fact, American media mogul, and star of the television reality show "The Apprentice", Donald Trump, who had championed her cause, calling for a U.S. boycott of Italy until Knox was freed was quoted in a CNN blog as saying that Knox could become a big star.
"For her to have spent four years in a terrible jail is just outrageous. I don't think they (the Knox family) can leave quick enough. She went to Italy to learn the language. Well, she learned the language," Trump said in a statement.
However, media hype and hounding aside, the somewhat obscured fallout of Knox's acquittal is that Kercher's killer is still on the loose. Her family has vowed to find him/her.
"It was obviously a very long and difficult day yesterday," Kercher's brother Lyle told the press on Tuesday, "Ultimately while we accept the decision and respect the court and the Italian justice system we do find now that we are left looking at this again and thinking how a decision that was so certain two years ago has been so emphatically overturned now."
"For us it feels like back to square one and the search goes on for what really happened," he added.
Earlier, the Kerchers had urged the court to uphold the guilty verdicts and resisted theories that the third person convicted in the case, Rudy Guede, could have acted alone. The family also complained that the excessive coverage of Knox and her tribulations had resulted in the legacy of Kercher being left out of the case.
The big question, then, is - did justice prevail in the end? Or did Kercher's murderers walk out scot-free?
Timeline of Events From 2007 Murder to 2011 Verdict
Nov. 2, 2007: 21-year-old Meredith Kercher, a student from Coulsdon in Surrey, discovered dead, with her throat slit, in the bedroom of her flat in Perugia
Nov. 4, 2007: Post-mortem reports reveal Kercher engaged in sexual activity before she died
Nov. 6, 2007: Italian police arrest Knox (Kercher's classmate) Knox's former boyfriend, Italian Raffaele Sollecito and Congolese Diya "Patrick" Lumumba, who ran a local bar. According to reports by the lower courts, Kercher was murdered as a result of "drug-fueled sexual assault". Knox reportedly breaks down and confesses to the crime, also implicating Lumumba. All three are held on suspicion of alleged manslaughter and sexual violence.
Nov. 7, 2007: Apparently, Knox tells officers she covered her ears to Kercher's screams from her bedroom.
Nov. 9, 2007: All three suspects detained for a year while investigations continue.
Nov. 11, 2007: Edda Mellas, Knox's mother, claims her daughter was with Sollecito on the night of the murder. Kercher's body is sent home.
Nov. 15, 2007: Knox's DNA is found on the handle of a kitchen knife and Kercher's on the blade. However, police are uncertain as to whether the knife was from the girls' apartment or Sollecito's.
Nov. 19, 2007: A fourth suspect, Rudy Guede, is identified. The suspect is thought to have left Perugia for Milan after the death of Kercher.
Nov. 20, 2007: While Lumumba is released without a charge; Guede is arrested in Mainz, Germany, for traveling without a ticket on a Frankfurt-bound train.
Nov. 22, 2007: Guede admits to being in the flat on the night of the murder. He also claims that an Italian man he didn't know committed the crime.
Nov. 30, 2007: The court in Perugia rejects Sollecito and Knox's appeals to be released from Capanne Prison.
Dec. 6, 2007: Guede is extradited back to Italy.
Jan. 16, 2009: Trial of Amanda Knox and Raffaele Sollecito begins.
Dec. 4. 2009: The court sentences Knox to 26 years in prison and Sollecito to 25 years, after they are found guilty.
Dec. 5, 2009: Lawyers for Knox and Sollecito announce launch of appeals over sentences for the pair.
Nov. 8, 2010: An Italian court orders Knox to stand trial for slandering police officers during the investigation.
Nov. 24, 2010: Knox and Sollecito appeal against convictions. Appeal is adjourned and is scheduled to resume on Dec. 11.
Dec. 11, 2010: Knox, in the midst of her appeal, breaks down, saying she was the victim of an "enormous mistake".
Dec. 16. 2010: Guede's conviction is confirmed by Italy's highest appeals court.
Dec. 19, 2010: Court allows review of forensic evidence used to convict Knox and Sollecito.
June 29, 2011: An independent forensic report discredits police evidence used to help convict Knox.
July 25, 2011: Two court-appointed experts, Carla Vecchiotti and Stefano Conti, inform the appeals court that the knife thought to have been used to kill Kercher carried no traces of blood but may have been contaminated with other DNA traces.
Sept. 24, 2011: Prosecutors ask the court to keep Knox and Sollecito behind bars for life.
Sept. 26, 2011: Patrick Lumumba's lawyer, Carlo Pacelli, calls Knox a "she-devil" and tells the appeals court she destroyed Lumumba's image by falsely accusing him of the murder, testimony that helps prosecutors attack her credibility. Knox admits she wrongly Lumumba but claims she did so over pressure from police.
Sept. 29, 2011: Knox's lawyer, Carlo Della Vedova points to errors in police investigation and urges appeals panel to look beyond image of Knox as created by the media and the prosecution.
Oct. 3, 2011: Knox makes tearful plea to be acquitted, saying she was paying with her life for a crime she did not commit.
Oct. 3, 2011: Two professional and six lay judges find Knox and Sollecito not guilty.
Oct. 3, 2011: Court upholds a conviction against Knox for slander, after she falsely accused Lumumba of the murders. It sentenced her to three years in prison, which has now been served.
Endgame
Although the court has given what is its final verdict, at least as far as Knox and Sollecito are concerned, its actions also unearth a whole barrage of unanswered questions.
Several details of the murder are still very unclear and there is, as yet it can be argued, no proper picture of what really happened that night.