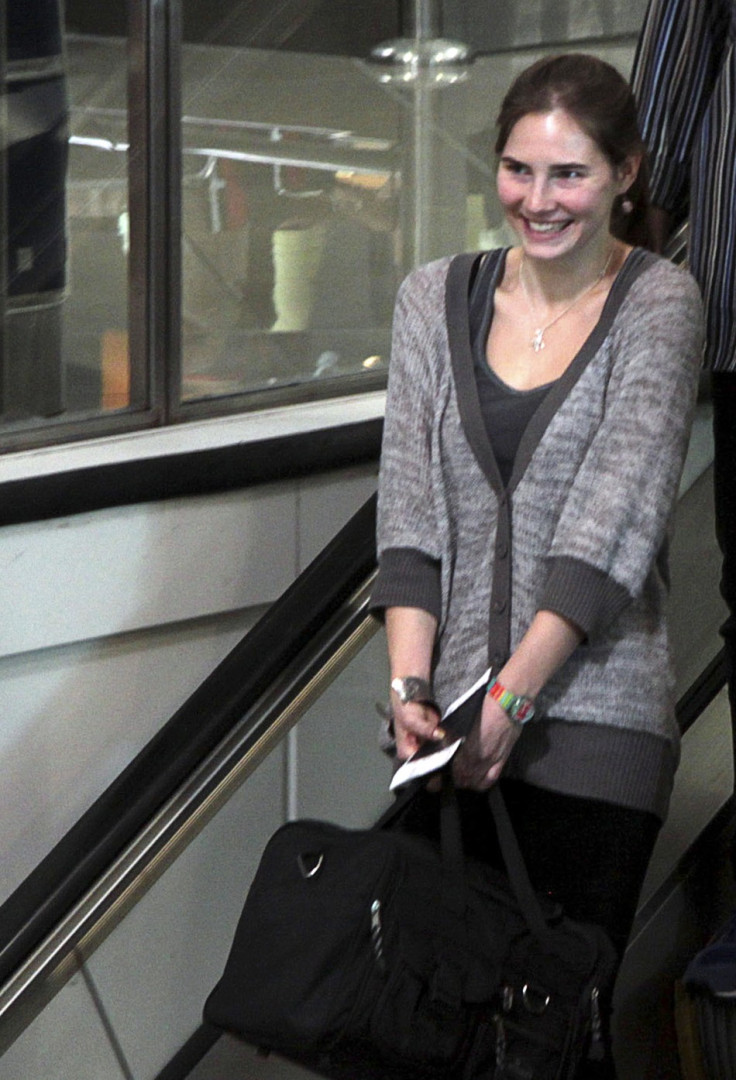 A day after an Italian court overturned her murder conviction, American student Amanda Knox came home to Seattle Tuesday. Barely able to contain her emotions, she said she felt "overwhelmed" and everything felt like it "wasn't real."
"What's important for me to say is just thank you to everyone who's believed in me, who's defended me, who has supported my family. My family is the most important thing to me right now. I just want to go be with them. So thank you for being there for me," she said AFP reported.
Her parents, Kurt Knox and Etta Mellas, also expressed their gratitude to her friends and supporters.
"(She's been through) a trying and grueling, four-year, nightmarish marathon that no child or parent should have to endure," said Knox's lawyer, Theodore Simon.
Knox was convicted in 2009 of the murder of her British roommate Meredith Kercher, whose body was found in their Perugia apartment in November 2007. Also convicted were her then-boyfriend, Italian Raffaele Sollecito, and Rudy Guede, a native of Ivory Coast and a small-time drug dealer. Sollecito's conviction was also reversed Monday.
Kercher was found dead on the floor of her bedroom. Investigators found knife wounds on her body, as well as bruises and signs of sexual abuse. All three accused denied being responsible for Kercher's death. They were, however, found guilty and Knox, Sollecito and Guede were sentenced to 26, 25 and 16 years in prison respectively.
Guede remains in custody but, according to the AFP report, intends to apply for a retrial.
However, Knox did not escape unscathed. She was found guilty of slandering local bar owner Patrick Lumumba. She was sentenced to time served and will have to pay compensation to Lumumba, as well as legal charges.
Meanwhile, in a predictable twist, Knox can now cash in on her ordeal, with interviews, a book, a television film, movie or all of the above.
"Amanda Knox is going to be big, because she is so young and she's so all-American looking, and we go by how things look," said Los Angeles literary agent, Charlotte Gusay.
Although many rejoice at her acquittal, it reopens the entire case; after all, if Knox didn't kill Kercher, who did?
"We are back to square one. The search goes on to find out what really happened," said Kercher's brother Lyle, at a press conference in Perugia.
An editorial by La Stampa, an Italian daily, read: "This is not a victory for justice. It's an acquittal that leaves a bitter aftertaste."