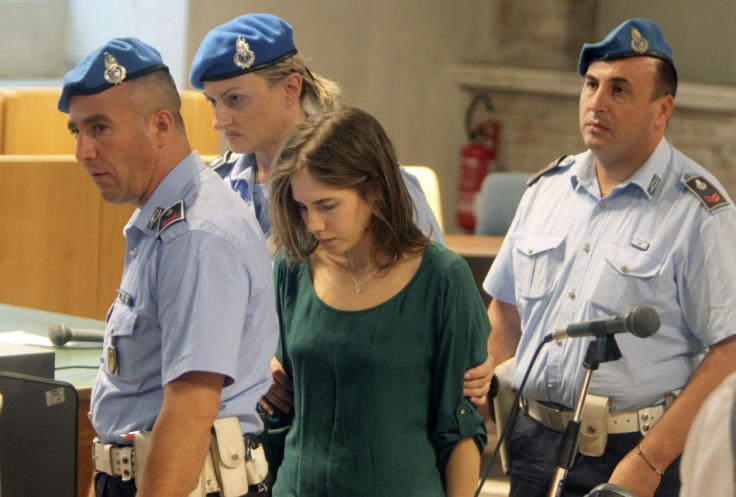 Fighting back tears an emotional Amanda Knox told the Italian court that she had nothing to do with the murder of Meredith Kercher as she will now spend the next few hours waiting to see if the jury will acquit her or uphold her 26-year prison sentence.
Despite being convicted of sexual assault, murder and the theft of Miss Kercher's two mobile phones and a sum of cash along with her former Italian boyfriend in 2009, Knox has always insisted she was innocent.
Conscious of the importance of her plea, the young American was struggling to maintain her composure, standing up in the medieval courtroom in Perugia and saying in Italian: 'I did not kill, I did not rape, I did not steal. I was not there.'
Appearing fragile and intimidated, Knox also insisted Kercher had been killed 'in the most brutal and inexplicable manner possible'.
Talking about her relationship with the victim, she refuted there was any enmity between them, maintaining instead they were friends before adding 'I lived my life above all with Meredith. She was my friend. She was always kind to me.'
She insisted the death of her friend frightened her as the person 'who had the bedroom next to me was killed. And if I had been there that evening, I would be dead. Like her. The only difference is that I was not there. I was with Raffaele.'
Proving she was decided to fight for her life, Knox declined an invitation by the appeal judge to sit down if she felt too nervous to stand before saying 'I want to go home,' 'I want to go back to my life. I am paying with my life for a crime I didn't commit.'
As soon as Knox finished pleading, the jury went into chambers to consider whether or not to uphold Knox's conviction, in what is set to be a long and tensed deliberation.
Despite her family, friends and supporters depicting the image of a 'normal' and 'sweet' girl, the prosecution has often provided a far less angelic image of the young woman, leading many to question the real identity of the convict.
Defending herself, Knox has today insisted she was 'completely different' to how she has often been described by prosecution lawyers, who labelled her last week as a 'diabolical witch' and a 'she-devil'.
'I am not who they say I am,' she said, insisting that her conviction for murdering the Leeds University student had been 'absolutely unjust, without foundation'.
'I am paying with my life for something I did not do.'
'I had never suffered. I did not know tragedy. I didn't know how to deal with it.' Her only experience of tragedy was through the television, she added.
Explaining why she had previously admitted to being in the house on the night Kercher was murdered, a fact she now denies, she explained she went through an all-night police interrogation in which had been "manipulated" by police and highly stressed. In the statement she has since retracted, she also claimed the murderer was Diya 'Patrick' Lumumba, who used to be her employer at a local bar, but who was later shown to be innocent.
Her mistake maybe had been that she had put her faith in the hands of the police she said.
'I trusted them blindly, and when I made myself available, to the point of exhaustion in those days, I was betrayed.' 'On the night of 5-6 November, I wasn't just stressed and pressurised, I was manipulated.'
Closing her plea she told the court "I want to go home to my life," she told the court. "I don't want to be deprived of my life, my future, for something I have not done," before adding "Do justice."
Amanda Knox remained clear and used simple word, but clearly denied killing her British flatmate. Her plea corresponded to the image her, her lawyer and supporters have depicted throughout.
Very emotional and almost breaking down at the beginning of her plea, she talked slowly and appeared calm, despite being very emotional but also determined to prove her innocence.
With an investigation widely criticised and a large group of supporters it now remains to be seen whether or not Amanda Knox will be acquitted of the killing of Meredith Kercher. Perhaps the most troubling in the trial has been the dichotomist image of Knox depicted by both camps, making it harder to assess who Knox really is.