Amazon has announced the Echo Show, a voice-controlled device with a 7in touchscreen, speakers, a camera and the company's virtual assistant, Alexa.
Joining the Echo, Echo Dot and Echo Look, the Echo Show is the first in the series to feature a display. Together with a front-facing 5-megapixel camera, this enables the Echo Show to make video calls.
The Show can also display video clips summoned by voice commands, a live feed from a connected home security camera or smart doorbell system, news headlines from CNN, and a look at the weather forecast and your calendar.
Music is streamed over the Show's Wi-Fi connection to services like Amazon Music Unlimited, Pandora, Spotify, TuneIn, and iHeartRadio, then played through a pair of integrated Dolby speakers.
Voice and video calls are handled through Amazon's own Alexa app, which is free and works on iOS and Android, as well as the company's own Fire OS devices. Unfortunately, there is currently no support for Skype.
A new feature called "Drop In" will automatically start a video chat as long as the receiver doesn't decline the call within 10 seconds of the caller getting in touch. Amazon says this would be used in a small number of cases, such as when checking in on an elderly relative.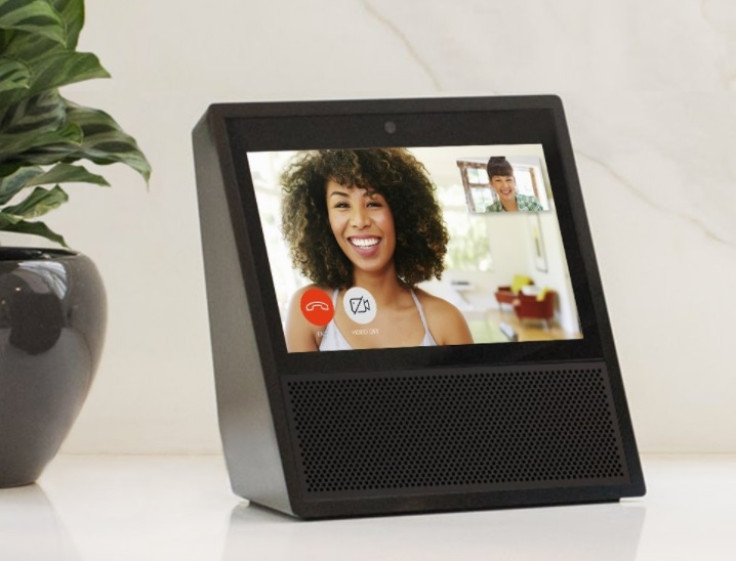 Being an Echo product with Amazon's Alexa voice-activated assistant built in, the Show can also perform all of the same tasks as the rest of the Echo lineup. This includes setting reminders, adding events to your calendar, playing music, looking things up online, ordering products from the Amazon website, and control connected home gadgets like smart lights, fans and thermostats.
Although many of the Show's skills are the same as what the screenless Echo and Echo Dot are capable of already, the addition of a display brings a user interface to what was previously just a spoken conversation between person and computer.
Available in black or white, the Echo Show can be pre-ordered in the US now. It goes on sale there on 28 June for $229.99 (£180) but there is currently no indication of when it will come to the UK. If the original Echo is anything to go by, the Show could reach our shores towards the end of 2017.