Amazon has announced a new voice-activated device tailored to help people become more vain – a camera powered by Alexa that can take full-length photographs and videos of your favourite outfits and even offer fashion advice.
That's right, soon you will be able to have your very own mini virtual fashion police in the Echo Look, which uses computer algorithms to compare fashion tips provided by a team of fashion specialists to provide you with a second opinion in case you're not sure about what you're wearing.
But the Style Check service is not merely altruistic – the hope is that users will go on Amazon and buy more clothes to supplement their existing wardrobes.
However, as Alexa is artificially intelligent, in theory, the more people use the device, the better Style Check will get at determining what makes a good outfit and what doesn't.
For bloggers and fashionistas though, the most attractive function of the Amazon Echo Look will probably be the fact that it features depth-sensing technology in order to help you take the perfect outfit shot without needing to hand your smartphone to a friend or prop your phone on an awkward surface with the timer on. If the device becomes popular, this could also lead to a reduction of selfies.
All you need to do is signal to Alexa when you're ready to take a photo or video, and it will do the rest, including blurring out the background so that you remain the main focus of the images. Echo Look also comes with a companion app that lets the fashion-conscious build personal lookbooks and share their photos on social media.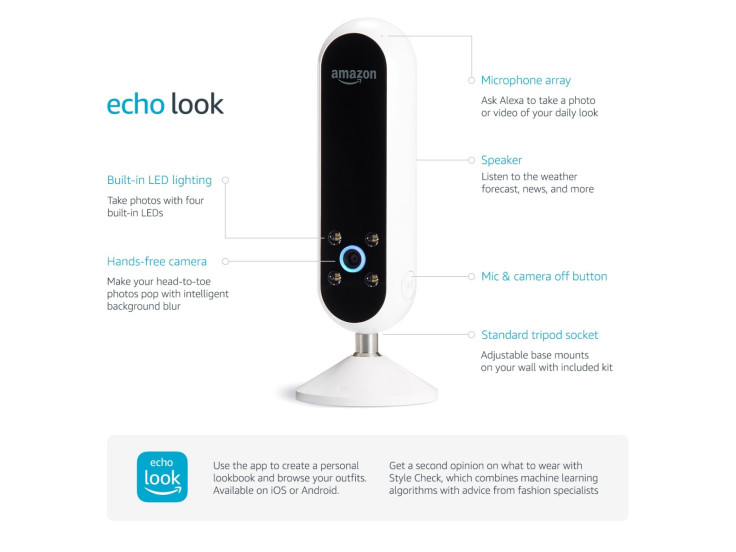 Aside from its fashion capabilities, the Echo Look functions like Amazon's other Echo speaker products, meaning that you can ask Alexa to look things up, read out the news, set alarms, get traffic and weather updates, play music and control your home using your voice.
The Echo Look will retail at $199.99 (£155.81) when it launches, but you have to register now in the hopes of receiving an invitation from Amazon to purchase the device.