AMD's first generation of accelerated processing units (APUs), called Llano, proved very popular, and the company will be hoping its second generation chips, the Trinity series, will prove just as popular.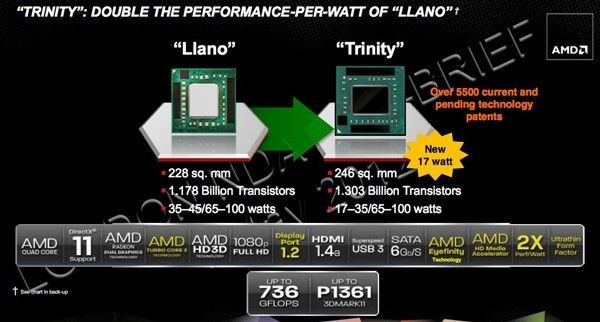 AMD has just lifted the lid on its Trinity series of APUs, comprising the A4, A6, A8 and A10 chips, and is this year focusing on the low-power end of the market, adding the ultra-thin laptop form factor which Intel has been so successful at promoting with its Ultrabook platform.
Unlike the die shrink we saw with the move from Sandy Bridge to Ivy Bridge, AMD has stuck with the 32 nanometer process seen with Llano. However, thanks to improvements in the architecture and the new Piledriver core, the APUs promise double the performance-per-watt.
Looking at the low-power end of the APU series, AMD claims the 17-watt A6-4455M processor promises to deliver the same performance as the 35W Llano APU. Currently calling these low-power, thin-and-light laptops "ultra-thins", AMD will be hoping to challenge the Ultrabook platform on price, with the "ultra-thins" set to cost as much as half the price of Ultrabooks.
Moving up to more power-hungry APUs, the middle 35/65W category covers the chips bound for regular laptops as well as all-in-ones and home theatre PCs (HTPCs). The main chip in this category is the A10-4600M which features a quad-core 2.3GHz processor which is boostable to 3.2GHz.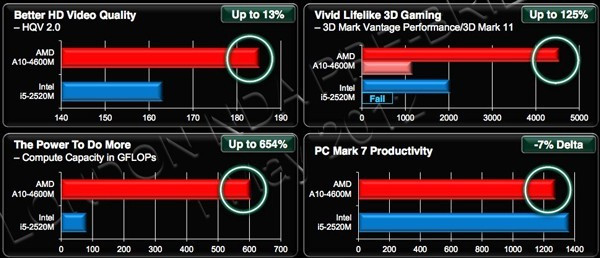 AMD is touting the power of this chip more than any other in its own benchmarking tests (above), which need to be independently verified before being taken as gospel. The AMD benchmarks pit the A10-4600 against an Intel Core i5-2520M Ivy Bridge chip and according to the results, the Trinity APU beats the Intel chip for video quality as well as 3D gaming.
Battery life is another aspect of the new Trinity APUs which AMD is touting as better than Intel's Ivy Bridge. It claims that thanks to the new Piledriver cores will mean that battery life will be on a par or superior to Ivy Bridge.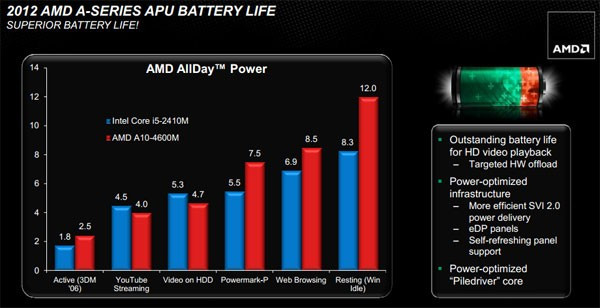 The high-end power hungry 100W Trinity APUs for desktops and high-end gaming machines, with AMD yet to full announce technical details for the full line up of powerful chips. The one it has spoken about it's the A10-5800K which AMD pitted against an Ivy Bridge Core i7-3770K.
The benchmarks show the graphical performance of the AMD chip is up to 50 percent better in games like Crysis: Warhead, Metro 2033, DiRT 3 and Skyrim compared to the Ivy Bridge chip, though once again these tests need to be confirmed independently.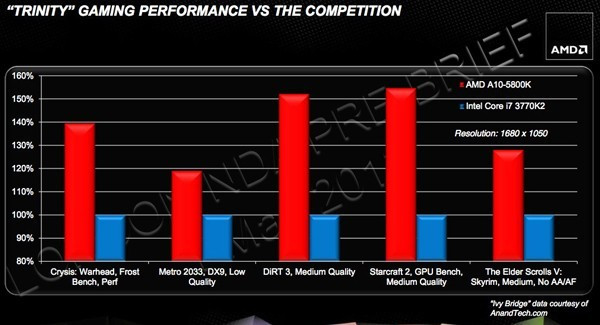 The Trinity APUs will be available from today in laptops and PCs from the likes of Asus, HP, Lenovo, Samsung, Toshiba and Acer.