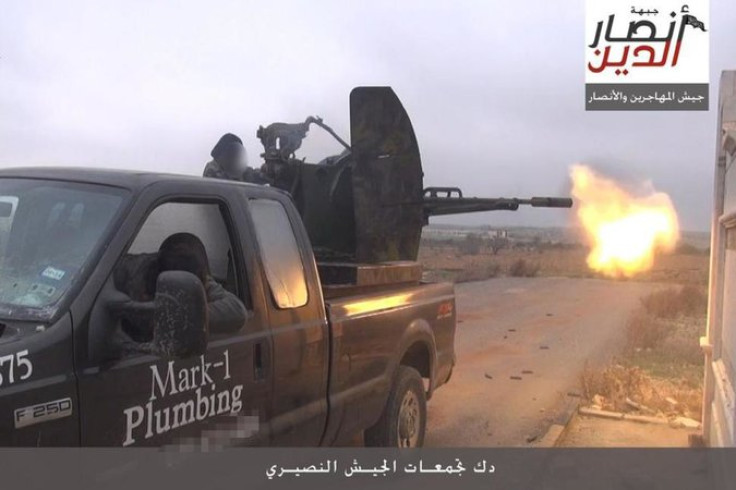 A Texan man is suing an American car dealer after he spotted his old Ford pick-up truck was being used by Isis (IS) fighters in Syria.
Mark Oberholtzer sold the the F-250 in October 2013 but found out its unlikely journey to the jihadi battlefield last year when he noticed photos of the vehicle – which was bearing the logo of his Mark-1 Plumbing company – circling on social media.
Court papers say Oberholtzer handed the vehicle over to AutoNation Ford Gulf Freeway in Houston as part-exchange for a new one. As the paperwork was being finalised Oberholtzer's son started peeling off the logo on the truck before the salesman told him to stop because it would harm the paint, reported the New York Times.
The truck, which still had the logo on, was shipped to Mersin, in Turkey, then one month later it crossed the border into Syria and into the hands of IS (Daesh). The terror group then converted it into a rear-mounted anti-aircraft gun.
Oberholtzer was unaware of the truck's new terrorist owners until he saw photos of it on social media, and he is now suing AutoNation for $1m (£664,000) claiming that its failure to remove the company logo lost him business.
As well as the the reputed financial loss, Oberholtzer has been the victims of thousands of harassing and threatening phone calls, with accusations that he supported terrorists. His staff and family members have also been subject to threatening calls.
After the news story appeared on the satirical US show the Colbert Report, Oberholtzer received between 100 and 200 calls a day with callers claiming he was "un-American" for selling the truck to Isis.