An American man living in the UK has been told to leave the country by a judge despite having a disabled British wife who relies on him for her care.
Dale McIntier, a 62-year-old from Idaho, came to the UK on a visitor's visa with his wife Sandra in April 2015 for her medical treatment. According to The Independent, the couple planned to stay for six months and then return to their home in the US.
The plan changed when 65-year-old Sandra, who was suffering from a genetic bone condition, was diagnosed with a fast-growing cancer. Sandra's new diagnoses led her to require full-time care.
The couple, who live in Largs, Scotland, decided to remain in the UK. Dale then applied for a spousal visa before his visitor status ran out in October, The Independent reported.
Five months later, the Home Office sent Dale a letter giving him just five days to leave the UK. The Home Office claimed the couple failed to provide relevant paperwork from a doctor stating Sandra's inability to travel. The pair said they were unaware of that requirement.
In the appeal against the decision, the couple was told by a court in a first-tier tribunal that Dale would have to return to the US to reapply for a spousal visa. UK immigration law states that spousal visa applications must be submitted from outside the UK.
However, that would leave his wife of seven years without a carer and force her to rely on state support. The couple's lawyers argue that the "compelling circumstances" of the case mean the Home Office should permit the appeal to continue with Dale in the UK to care for his wife.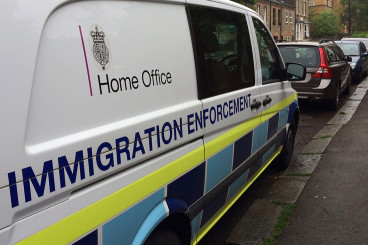 Dale told The Independent that his wife's conditions would require more state-funded care if he leaves the country.
"I've had to look after her pretty closely. She has seizures in the night," he said. "She's been diagnosed with a mild form of epilepsy, which was made worse by medication she was put on in the States."
He continued: "She really can't travel much. We can hardly take a day without it wiping her out for sometimes days afterwards."
"Ever since we got married we've just needed each other. If I do have to leave, we'll probably both be in depression. It takes a certain amount to run a household. She would need someone to come in and take care of her. She needs me here pretty much 24 hours a day," he added.
Financial hardship
According to The Independent, Sandra was born in the UK and lived and worked in the country until 2002, when she traveled to the US and met Dale. The couple married several years later.
She said that she feels as though the couple is being forced to divorce without their consent. "The prospect of him having to leave has made me really depressed," she said. "It feels like we're being divorced without our consent, like someone is unofficially divorcing us."
Dale added that traveling back to the US would present a financial hardship as well. After airfare and rent back in the US, it would take up to a year before he could reapply for the visa.
Despite arguments by their lawyer, a judge said there was "insufficient supporting evidence about how this would impact on his wife if they had to live apart". The judge then claimed the public interest in maintaining effective immigration control was "justified and was proportionate".
The Home Office has declined to comment.