The White House has said that US President Donald Trump will donate $1m (£770,000) of his personal funds to relief efforts in the aftermath of Hurricane Harvey.
When she made the announcement at a media briefing, press secretary, Sarah Huckabee Sanders, said that reporters could help decide which organisation the donations would go to.
Trump has faced criticism in the wake of the disastrous flooding in Texas and Louisiana. Some US media pointed out that though he had professed to seeing the devastation "first-hand", Trump had in fact only experienced the disaster through second-hand testimonies from those actually on the ground.
Previous reports have also questioned whether claims of Trump's donations to charitable causes have in fact occurred or instead come out of the Trump foundation, to which he has not thought to have donated in some years.
Hurricane Harvey has so far taken the lives of 30 people and caused massive damage to tens of thousands of homes across Texas and Louisiana border. On Wednesday alone, the Coast Guard said that they had rescued over 940 people.
More than 4,500 people have been rescued by the Coast Guard so far, along with 113 pets, authorities said.
"We are assessing the needs of the community around the clock and strategically placing our punt teams in the best place to assist," said Stephanie Tindall, a marine science technician at Coast Guard Sector Houston-Galveston.
"We have been working closely with partnered agencies to ensure an effective and efficient response effort."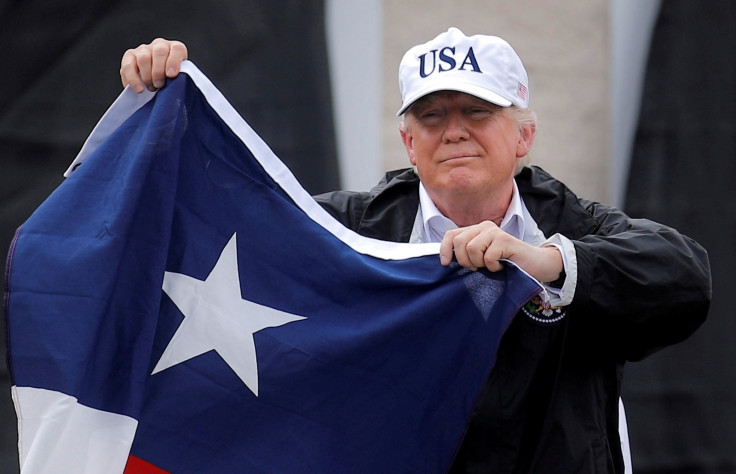 There have been explosions at a chemical plant in Houston since taking in huge amount of water, with the owners saying there was nothing they could do to prevent further blasts in the Arkema facility.
"We have an unprecedented six feet of water at the plant. We have lost primary power and two sources of emergency backup power," Arkema CEO Rich Rowe said.
"As a result, we have lost critical refrigeration of the materials on site that could now explode and cause a subsequent intense fire. The high water and lack of power leave us with no way to prevent it."