The head of the American Nazi Party said that if Donald Trump becomes the next president, it would be a "real opportunity" for white nationalists to increase their power base in the US.
"If Trump does win it's going to be a real opportunity for people like white nationalists acting intelligently to build upon that," said Nazi Party Chairman, Rocky Suhayda, during a regular radio broadcast earlier in July 2016. "You know how you have the black political caucus and whatnot in Congress, and, everything, to start building on something like that."
A future with a President Trump could legitimise the Nazi party and help it break free of its image of "screw-ballism," said Suhayda, saying that the key is not to be negative, but to instead focus on building a white power base, he said.
"If blacks act like savages, you don't need to go around and point [that] out constantly," Suhayda added. "The people know that, they recognise it. What we need to do is to start worrying about the help of our white folk. The honest-to-God truth is, if our people got their healthy, racial spirit back, there wouldn't be a lot the nonwhites could do to us."
Suhayda has been loathe to mention Trump publicly for fear a Nazi link could hurt the Republican candidate's chances, according to Buzzfeed which first reported the comments included in his radio broadcast on Saturday 6 August. But in a report to members of the Nazi party, Suhayda said Trump's message provided vindication for the party's overall philosophy.
"Donald Trump's campaign statements, if nothing else, have shown that 'our views' are not so 'unpopular' as the Political Correctness crowd have told everyone they are!" he wrote, Buzzfeed reports. Meanwhile, Suhayda is convinced Trump will defeat Hillary Clinton.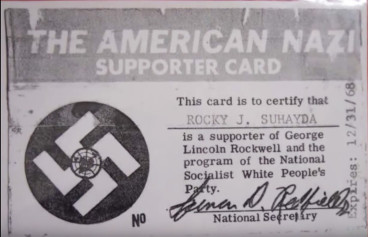 "I think it's gonna surprise the enemy because I think that they feel that the white working class, especially the male portion of the working class and with his female counterparts have basically thrown in the towel — given up hope of any politician again standing up for their interests," he said.
Suhayda isn't the first white supremacist to back Trump. Earlier this year, Rachel Pendergraft — the national organiser for the Knights Party -an affiliate of the Ku Klux Klan — told The Washington Post that the KKK had begun using Trump's candidacy to recruit followers.
"They like the overall momentum of his rallies and his campaign," Pendergraft said. "They like that he's not willing to back down. He says what he believes, and he stands on that."
Earlier in 2016, David Duke — the former grand wizard leader of the Ku Klux Klan and now a US Senate candidate from Louisiana — encouraged listeners to his radio program earlier this year to cast their ballots for Trump, saying that "voting against Donald Trump at this point is really treason to your heritage." On Friday (5 August), Duke told NPR that he is "100% behind" Trump's agenda.
When Duke was asked by NPR if he thinks Trump voters are his voters, Duke replied: "Of course they are because I represent the ideas of preserving this country and the heritage of this country, and I think Trump represents that as well."