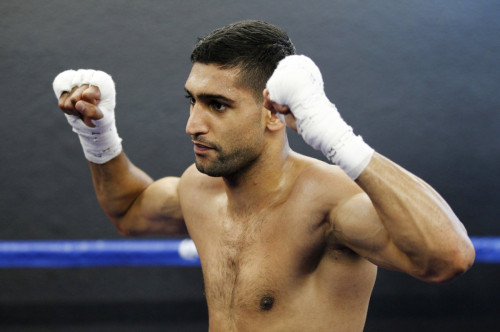 Amir Khan is on the brink of securing a money-spinning meeting with Floyd Mayweather Jr after finishing top of an online poll to decide the unbeaten American's next opponent.
Mayweather gave fans the power to choose between Argentina Marcos Maidana and Khan, with the former Olympic silver medallist prevailing after claiming a 57% majority after winning over 20,000 votes.
The results is set to see an agreement reached between the two fighters, who both have close links with the Golden Boy stable, ahead of an expected meeting in May – the third bout on Mayweather's six-fight Showtime television deal.
Maidana had appeared set to win the vote and a meeting with Mayweather after finishing ahead of Khan in an equivalent vote on the Boxing News website, however the Brit's capacity to excite sees him lead the race to take on the 36 year old.
Khan last fought in April 2013 when he defeated Julio Diaz and though the former WBC and IBF light welterweight champion would be considered the underdog in the contest against Mayweather it would represent a career highlight for the Bolton-born boxer.
With Mayweather's next opponent seemingly secure, questions will now be raised over who will represent his challenger later in 2014, with rumours continuing to circle regarding a meeting with long-standing rival Manny Pacquiao.
Pacquiao faces Tim Bradley in April but says an offer has been submitted to Mayweather, who has continued to dodge a meeting with the Flipino having continually asked for Olympic-style blood testing to be conducted prior to the fight.
"I want that fight but it's up to him," Pacquiao said. "What I can say now is that our line is open 24 hours, seven days a week. If he will call and say 'yes' then the fight [will happen]."
"Thousands, millions of fans are waiting for that fight and been asking me many questions about when will that fight happen. I tell them I am willing to fight him any time but the problem is him. Many alibis.
"[Operators are] standing by 24 hours, seven days a week."