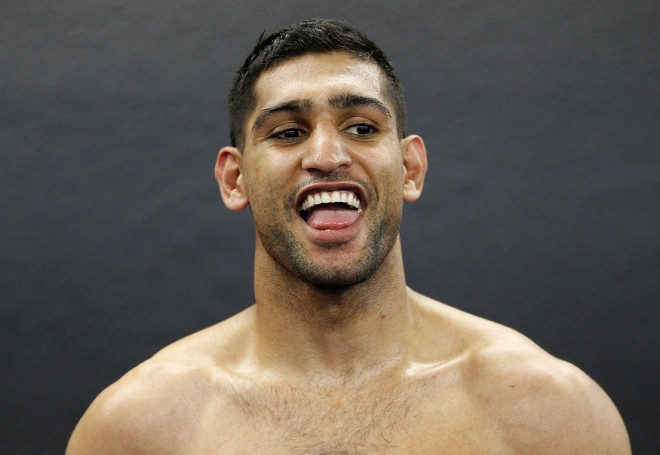 Amir Khan has slammed Floyd Mayweather Jr after the American star confirmed a bout with Marcos Maidana, saying he was scared to face the Bolton-born fighter.
Mayweather decided to face Maidana in a welterweight unification contest on 3 May in Las Vegas, disappointing Khan, who had signed his half of the contract in December.
The 27-year-old had won an online poll conducted by the five-weight world champion on social media to find his next opponent. The fight with Mayweather would have put Khan in line for one of the most exciting clashes this year.
Though Khan won the popular vote, Mayweather confirmed his bout with the Argentine. Maidana drew the American's attention after his victory over Adrien Broner, who was the self-proclaimed heir to the unbeaten American's throne.
A disappointed British fighter criticised the 37-year-old, claiming that he picked an easy fight with Maidana.
"Yeah I am upset. It's a setback for me not getting the Floyd Mayweather fight. Maybe he was just a little bit afraid of the speed and the explosiveness of me," Khan told talkSPORT.
"He wanted an easy fight. He knew if he was going to fight against me it's going to be explosive and there's going to be a lot of speed in there."
Khan's promoters, Golden Boy, had earlier said they were confident the British fighter would face Mayweather. The American is still unbeaten and the two-time former world champion claimed that he would be able to end Mayweather's unbeaten streak.
"We can work our way back to Floyd. He has that style which gives a lot of people problems. It's a style I think I can definitely cope with and be the first guy to beat him," the British fighter said.
"He's the best fighter out there and you always want to fight the best out there. To beat him would definitely make me a superstar in the world, it'll be a fight that's remembered. It's a fight that I want," he added.