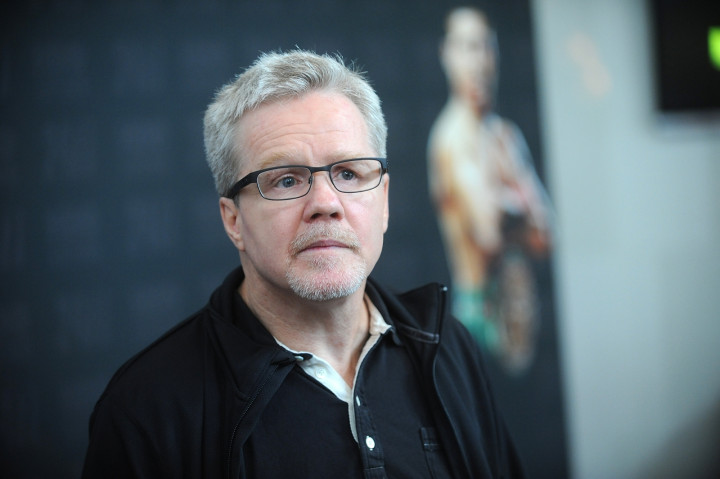 Manny Pacquiao and Amir Khan have both been tipped to defeat Floyd Mayweather Jr, should the heavily predicted bouts ever be staged, according to coach Freddie Roach.
Pacquiao and Khan have long attempted to secure a fight with Mayweather Jr, but the unbeaten American continues to prove evasive – with his next bout a rematch against Argentina's Marcos Maidana in September.
The Pacquiao camp has accused Mayweather of intentionally ducking a meeting with the Filipino in order to protect his 46-0 career record and Roach expects his fighter to win any eventual match between the pair.
"I think Mayweather is shot, his legs are gone and Manny will knock him out," Roach told Boxingscene.com. "If he wants to get knocked out, sign the contract.
"He says he's sitting down [and not moving as often] to please the crowd. He don't care about pleasing no crowd, I don't think. He just can't move no more. His legs are shot. He's done."
He added: "Khan has good speed, he is a good athlete. He just stays in the pocket for too long sometimes. He wants to exchange too much.
"He could possible be a threat [to Floyd Mayweather Jr] because he's very athletic. He's very fast. I see Amir doing well with Mayweather.
"You know the thing is, his new trainer taught him how to hold. That's the biggest thing that's changed that I see is that he'll throw a combination and hold now.
"[That's] a little bit boring for the fans and if you try to hold Mayweather – you're not going to have success holding him, because once you reach for him he's going to tag you, he's way too sharp a fighter for that."
Khan has claimed he has all but given up securing a meeting with either Pacquiao or Mayweather until at least 2015 and is now open to facing new IBF welterweight champion Kell Brook following his victory over Shawn Porter.
Speaking after Brook's win in California in August, Khan had suggested the pair attempt to recreate Carl Froch and George Groves's duel at Wembley Stadium earlier this summer.
And promoter Eddie Hearn has indicated that could become a reality after claiming talks are progressing between the two.
"Talks are ongoing over a fight between Kell Brook and Amir Khan," Hearn said. "It is going well because I think everyone realises it makes sense.
"Khan obviously wants a fight with Floyd Mayweather, as does everyone in the division, but he knows that while that fight might never happen, even if it did he would make more money fighting Kell.
"Everything so far has been very straightforward and I am in talks with Wembley over a May date. They want us back there as soon as possible after the success of Froch-Groves - I have no doubt in my mind that we would fill that stadium again. I hope to have this tied up in the next month or so."
However, Khan, 27, has taken to Twitter to pour cold water over premature reports suggesting an agreement is imminent, writing on Twitter: "First I've heard about this," followed by a link to an online article regarding the deal.