Amnesty temporarily shuts offices in India after being slapped with sedition charges
The rights group fears backlash from right-wing groups following intense protests.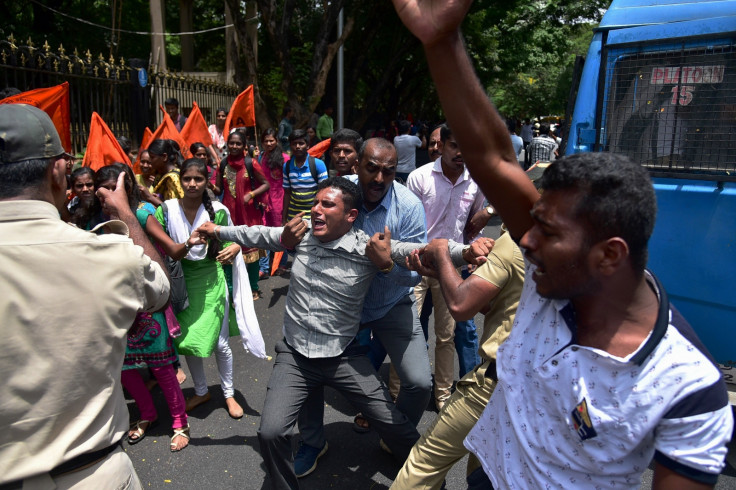 Amnesty International has temporarily shut its offices in India after the organisation was slapped with sedition charges. The rights group has also suspended events fearing a backlash from protesters.
Amnesty has been grappling with intense protests since Tuesday, 16 August mostly by right-wing organisations after anti-India slogans were allegedly raised during one of their programmes.
The rights group's staff have been asked to work from home until the situation is resolved. A spokesperson for Amnesty said: "The police are also gauging the scenario, and will inform us when it would be safe to go back to our workplace. It may take until Monday [22 August] to get a clearer picture." Offices in almost all Indian cities including New Delhi, Bengaluru (formerly Bangalore), Chennai and Pune are to remain closed.
Demonstrators belonging to the Akhila Bharathia Vidyarthi Parishad, a right-wing students organisation affiliated to the Rashtriya Swayamsevak Sangh – the ideological backbone of the ruling BJP — have threatened to intensify their protests on 18 August at Amnesty's offices in the southern Indian city of Bengaluru.
A formal complaint has been registered against Amnesty by the Bengaluru police after alleged "anti-national" slogans were raised at their seminar on Saturday, 13 August. The rights group has denied the accusations saying no such incident took place but admitted some participants shouted for Kashmir's freedom.
"Merely organising an event to defend constitutional values is now being branded 'anti-India' and criminalised. The police were invited and present at the event. The filing of a complaint against us now, and the registration of a case of sedition, show a lack of belief in fundamental rights and freedoms in India," said Aakar Patel, the executive director of Amnesty International India.
The archaic sedition law has come under severe criticism due to its draconian nature. Prime Minister Narendra Modi's government was earlier slammed for slapping sedition charges against a popular student leader, Kanhaiya Kumar.
© Copyright IBTimes 2023. All rights reserved.