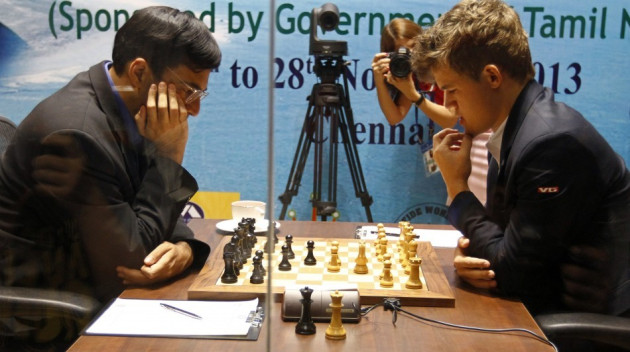 Click Here to Watch Game 9 Preview
Defending champion Viswanathan Anand's wait for the first win over Magnus Carlsen will continue as Game 8 of the 2013 World Chess Championship ended in a draw at Hyatt Regency Chennai, India.
The Norwegian leads 5-3 after eight games and maintains a two-point lead after registering wins in Games 5 and 6. The previous game had ended in a draw as well, which had momentarily given the ageing champion a psychological reassurance.
However, with Game 8 ending in a draw there is obviosuly a lot of pressure on the Indian, and analysts and experts are veering round to the belief that Anand's stay at the helm of world chess is all but over.
Carlsen's king pawn two square forward push forced Anand into solid Berlin defence in Game 8. This led the game to be drawn after 33 moves being played, one more than Game 7.
The 22-year-old was with his white pieces and was playing a much defensive game as he was in no hurry to find a victory out of this game. Carlsen waited for Anand to make errors, but the Indian was successful in avoiding the mistakes he made in earlier rounds.
Tuesday's strategy was implemented by the duo in 2010 in Kristiansund and Nanjing and the game had the same result as that of Game 8. With four games remaining in the competition, one draw and a win for Carlsen would see him win the World chess championship title.
There will be a rest day on Wednesday and the players will return to action on Thursdau for Game 9. Anand would be looking for a win to keep his ope of retaining the World championship for yet another year.
Also Read
Game 6 Result Here
Game 7 Result Here