Click Here to Get Game 9 Result
Reigning world chess champion Viswanathan Anand is facing off against the menacing challenger Magnus Carlsen of Norway in what is perhaps the most crucial Game 9 of the World chess championship. A loss in this will all but close out the Indian's chances of retaining the trophy while a draw will only give him momentary relief.
Where to Watch Live
The play starts at 9:30am GMT at Hyatt Regency Chennai, India. Live coverage of Game 9 will be available on the official FIDE website.
Overview
The game on Thursday will be crucial for Anand as he would be looking for his first win over the 22-year-old in the competition. A win can infuse new life into the withering campaign of the defending champion, while a draw will only give him an all-too-weak lifeline. The Norwegian has a two-point lead over the Grandmaster as he leads the World chess championship 5-3 after eight games.
The first four rounds ended in draw and the scores were level until the start of Game 5. However, Carlsen capitalised on the mistakes made by Anand in Game 5 and Game 6 and showcased almost invincible end-game prowess to register two back-to-back wins in the competition, placing himself miles ahead of the ageing Indian.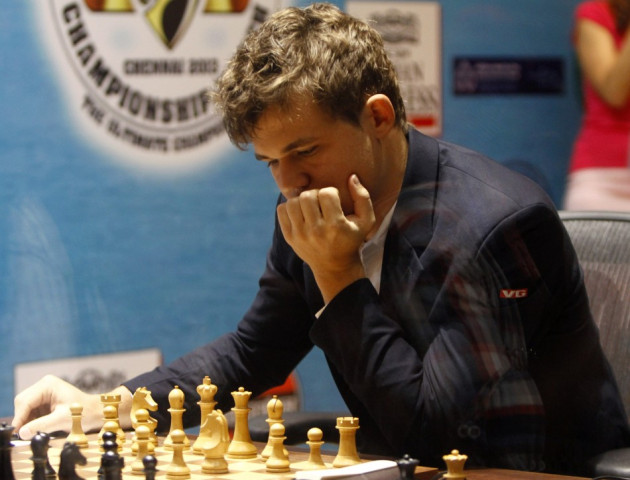 Anand avoided defeat in Game 7 as he settled for a draw while he failed to pull out a win in Game 8, making many analysts wonder if the five-time champion has enough firepower left in him to fend off the brutal onslaught of the challenger almost half his age. With four games remaining in the competition, one more defeat on Thursday would place the Indian in a position from where wins in all the remaining games would be a must to level the scores and thereby take the tournament to a tie-breaker.
The remaining matches take place from today to 26 November. If the match remains tied after Game 12 on the final day, tie-break games will be played on 28 November. Meanwhile, there would be rest days after Game 10 and 11.
What They Say
Viswanathan Anand (on Game 8): "Generally a fairly solid system for white. Not entirely without chances if black plays inaccurately. The only interesting moment was when 23...Qg5, then 24.h4 is very strong. So, after Qd8 we liquidated to a king and pawn ending."
Magnus Carlsen (on Game 8): "He has played different systems against me in the past. Berlin is one of the systems I had to recommend. It was not a major surprise. He played the Berlin. I played the most solid line ... yada yada yada, we go to the doping control."
What Experts Say
Garry Kasparov: "Anand could win a fantastic game tomorrow & Magnus would have huge pressure while Anand riding high. But where is any indication of this. It is very rare for even a great player to suddenly go from such dismal shape to the brilliant form required to beat a player like Carlsen."
Susan Polgar: "On their part, chess players should be more media savvy and be active on the social media to improve their marketability."
Also Read
Game 6 Review Here
Game 7 Review Here
Game 8 Review Here