Ancient Egypt: Archaeologists discover pyramidion clue at Queen Ankhnespepy II's long-lost chamber
Discovery comes week after obelisk for Queen Ankhnespepy II was found nearby.
Archaeologists may have discovered the first evidence of a long-lost satellite pyramid for Ancient Egypt's Queen Ankhnespepy II. A Swiss-French mission uncovered a 4,000-year-old granite pyramidion – the uppermost part of a pyramid – while excavating near the Saqqara necropolis, a vast ancient burial ground about 20 miles south of Cairo.
It has provided archaeologists further proof of the existence of a satellite pyramid for Queen Ankhnespepy II, who was the influential wife of King Pepy I during Ancient Egypt's sixth dynasty. Her burial chamber was discovered in 1963 and her pyramid uncovered in 1998, but archaeologists have still been searching for evidence of the smaller satellite pyramids normally built nearby.
Dr. Philippe Collombert, head of the archaeological mission from Geneva University, said the pyramidion was found at the northern side of King Pepy l's pyramid.
It is believed it was once covered in a gold or copper, a technique used to allow the top of the structure to glint in the sun.
The granite structure – measuring 1.3m high and with a 1.1m long base – was also uncovered close to where part of an obelisk for the same queen was discovered just a week before, the country's Ministry of Antiquities said on Thursday 12 October.
"Queens of the sixth dynasty usually had two small obelisks at the entrance to their funerary temple, but this obelisk was found a little far from the entrance of the complex of Ankhnespepy II," said Mostafa Waziri, secretary general of Egypt's Supreme Council of Antiquities.
Waziri suggested stonecutters may have later moved the Old Kingdom obelisk from the queen's funerary temple, with much of the Saqqara necropolis used as a quarry during the New Kingdom and Late Period.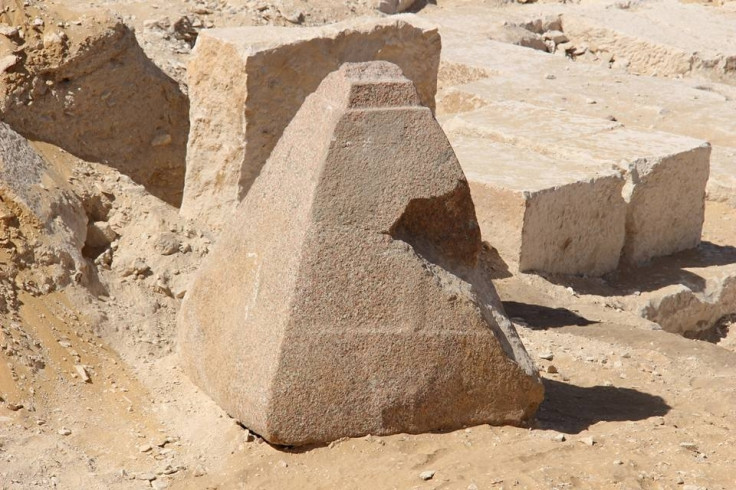 The red granite obelisk was said to be more than 4,300 old and inscribed with the name and titles of Queen Ankhnespepy II. An influential wife of King Pepy I, she was also the mother of King Pepy II and ruled as regent until he came of age. "She is probably the first queen to have pyramid texts inscribed into her pyramid," Waziri said, explaining her influence during that time.
Archaeologists have been digging in the area for more than 50 years in the hope of gaining further insight into the Old Kingdom. Ancient ruins like the pyramids have long attracted tourists to Egypt but the country has seen a decline in visitor numbers since its revolution in 2011.