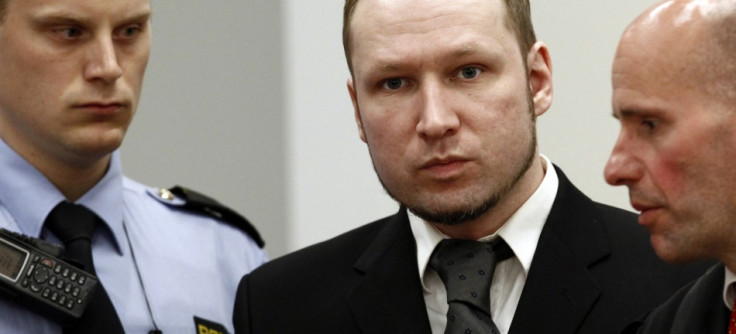 Mass murderer Anders Behring Breivik listened in silence as witnesses described the scene of the bombing in Oslo as a war zone.
Forensic scientists outlined details of the horrific injuries inflicted on four of the eight people who died in the blast when the 2,100lb bomb went off in the basement of a government building.
Breivik admitted to the bombing and the subsequent massacre on Utoya island, where he shot dead 69 people at a Labour Party youth camp.
Thor Langli, the police operations leader, told the court that from the initial reports he had assumed there were two suspects.
He said at first there were reports of a "non-Nordic" and then another of a Nordic-looking suspect.
He received the call while standing next to the head of an anti-terror squad in Oslo, about 25 miles from the shootings. The anti-terror chief received a call straight after the shootings.
"I saw on his face that it was something serious," Langli said. "And while I was watching him he said out of the corner of his mouth, 'Shooting on Utoya'.
"I thought there was a connection [with the bombing]. But I didn't have any evidence," Langli said. Turning to Breivik, he added: "I could not imagine there being two people with so many crazy ideas."
A rfurthe report came in that 50 people had been shot on the island. The anti-terror unit was dispatched and arrived 70 minutes later by which time 100 people had been shot.
The far-right fanatic remained expressionless for the most part of the evidence. He did, however, smile at security guard Tor Inge Kristoffersen, who worked in the building that was bombed, when he called Breivik's motives "absurd".
The guard told the court how he and a colleague used a security camera to zoom in on the van containing the bomb just before it exploded.
"The moment we had zoomed in on the plate the car exploded," said the guard, who was not hurt in the bombing. He described the scene in downtown Oslo as a "war zone".
Svein Olav Christensen, an explosives expert who works at a defence agency, gave evidence and showed pictures of the bomb site.
The bomb, made of mainly fertiliser and diesel, tore through the concrete beneath the vehicle and the street below. Breivik had told the court during his testimony that he was disappointed that the building had not collapsed completely, but Christensen added that the bomb would have had to be much larger to bring down the 17-storey structure.
Two psychiatric reports on Breivik's mental state have disagreed over whether he is sane or not.
The far-right militant claimed he had to undergo training so he would not feel empathy for his victims and could carry out his massacre on behalf of the anti-Islamic Knights Templar group.
Authorities have, however, questioned whether there were other extremists working alongside Breivik.
The trial continues.