Manchester United goalkeeper Anders Lindegaard is undeterred in his attempts to displace David de Gea from the No.1 Jersey at Old Trafford despite the Spaniard having cemented his position between the sticks for the Premier League leaders this season.
The much criticised De Gea has made 27 starts for United this season compared to Lindegaard's 11, the last of which came in the FA Cup third round replay against West Ham United in January.
Sir Alex Ferguson is understood to be considering offloading De Gea, with Stoke City's Asmir Begovic among those considered as a potential replacement, but Lindegaard wants to continue his 'successful' spell at United by nailing down a regular starting position.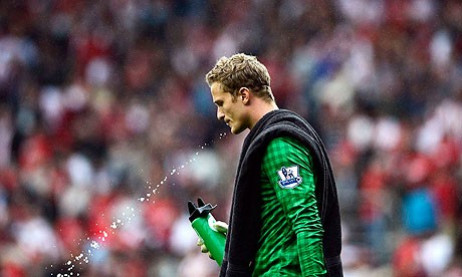 "I certainly feel that my time here has been a success," the 28 year old told Jyllands-Posten. "I joined as a small fish in a big pond, and you have to be very strong not to get lost in that environment.
"I've had spells where I've been first-choice goalkeeper, which far exceeded my expectations, but that does not mean I am satisfied. Personally, I feel that I still haven't achieved my dream at United.
"I want to be a regular in the team, playing every time and delivering in the big games. That's my objective, and I've only partially fulfilled that."
De Gea produced two excellent saves from Fabio Coentrao in the Champions League last 16 tie against Real Madrid last week, helping to hand United, virtue of Danny Welbeck's goal, the initiative going into the second leg after a 1-1 draw.
United striker Javier Hernandez, who himself has been on the peripheral of the first team in 2013, believes De Gea will soon become one of the best goalkeepers in the world.
"A lot of people who know about football know that David is a top-class goalkeeper," Hernandez told MUTV.
"That is why Manchester United bought him. They saw how good he can be. If he wasn't at the right level to play at this club he wouldn't be here and they are trying to look after him.
"To me, he is a complete goalkeeper. You see the great saves he made on Wednesday. He can also play with his feet, which is very useful to see in a goalkeeper.
"Other people are speaking about when he has to go out and clear the corners and free-kicks. They say that is the weak part of his game.
"But I think he is doing brilliant and in a couple of years he will be the number one in the world."