Witnessing greatness birthed in front of your eyes is a very rewarding feeling. Knowing you were there at the beginning, watching the grind, the hardships, the ups and downs – it gives you a sense of ownership. Whether it's a product or a person, the feelings are the same; that electrifying sense of pride cannot be matched. Then comes the celebration when a win is on the table. And a celebration is precisely what happened last week when Anderson .Paak took to the stage at London's XOYO as part of his Off the Ground tour.
So why the celebration? Well, besides the release of new album Malibu, as well as being one of the most humble and down to earth musicians on the planet with more talent in his little finger than most have their entire body, Anderson .Paak has just signed his dream record deal. After years of chipping away behind the scenes as an aspiring artist and drummer-for-hire, the 30-year-old Californian has inked a deal with Dr Dre's Aftermath imprint.
Playing to a sold out audience at the trendy London venue, the energy in the room was cinematic. In the type of form Prince was in at the end of Purple Rain, there's no question .Paak is enjoying himself right now. High on life and soaring to the promised land of critical acclaim and the recognition of his peers, watching this man at work is like watching Steph Curry hit a half court shot on the buzzer – it's mystifying.
It wasn't always like this though. Part of his come up included being homeless for a period of time. But while that's a tough pill for anyone to swallow, he claims he always knew there was something bigger planned for him.
"I definitely had it in my gut that something was gonna happen at some point," .Paak tells IBTimes UK. "I'd always say to myself, 'There's gotta be a better ending to this. It can't be like this.' Which is usually why I always ended up coming back after taking a break from music."
Understanding the importance of never quitting because you never know what might be around the corner, .Paak adds: "You could be one step away from achieving your dream. I believe that's all that separates one person from the next, the successful person is just the one that didn't stop."
A Stones Throw away
Before .Paak's multiple guest spots on last year's highly anticipated Dr Dre album, there was Stones Throw Records. Regarded as one of the most credible underground labels in rap, .Paak remains in an exclusive deal with the Los Angeles-based outfit as part of the duo NxWorries – along with producer Knxwledge. But even that wasn't an easy hurdle to climb.
"Before me and Knxwledge signed to Stones Throw we did a couple of songs together, one of which was 'Suede'," .Paak explains. "Knxledge was already signed to Stones Throw and I was putting it in his ear like, 'Yo, what's up? Tell Stones Throw to put this shit out. Can we get a meeting?' And they were lagging.
"I remember one day he was just like, 'I don't think they're feeling it man.' So I was like, 'Alright, well I think the song is dope so I'm gonna perform it online on this web series.' – it wasn't even out yet. I was just gonna perform it live in one take. So I did it and it started blowing up, and then Stones Throw called and was like, 'Yo! Take it down immediately, we wanna put the record out.'"
So what did Stones Throw think to his solo deal with Aftermath? "They were great," he says. "They put up an offer too but I ended up getting what I've always wanted, the best of both worlds. You can work with the top of the food chain and the people who helped to make the chain.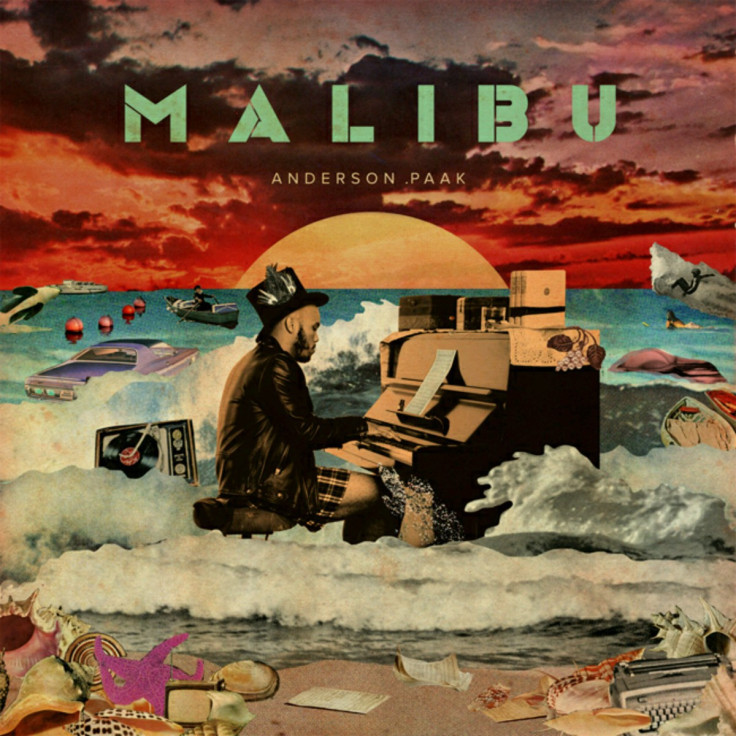 "Having the respect has always been more important to me than even the money. To be on a label that has a lineage featuring names like Madlib and [J] Dilla was just important to me more so than... I mean of course I want a fair deal but I couldn't care less about the advance or whatever because I just wanted to be a part of that lineage. And it's the same idea with Dre too, it's great to be a part of that lineage. But to be on both sides at the same time, who's really doing that?"
Yes lord!
If you've ever listened to an Anderson .Paak record, or been in the same room as him, you'll know he likes to praise the almighty on the regular. A feel good ad-lib that oozes prosperity and joy, "Yes lord!" is a welcoming sound that acts as an indicator to how .Paak is feeling, and right now he's feeling pretty damn good.
Signing to Dr Dre's Aftermath Records just a couple of weeks ago, he now joins a label whose roster has included greats such as Eminem, 50 Cent, The Game and Kendrick Lamar. Coming off of the back of featuring on six cuts on Dre's 2015 Compton album, .Paak figured he might play a small part in the album, but nothing prepared him for having more guest spots than anyone else on the entire project.
"When that pre-order dropped I was like, 'Wait. I'm on Dre's album and it was never supposed to drop,'" he says. "It was crazy. And honestly, I was one of those dudes that never thought Dre was going to ever drop another record, let alone that I would be on it. That's one of the things I never really ever thought of."
Admitting it was the craziest scenario he could imagine, he thinks back to when Dre dropped his album 2001: "That record was huge. It was so amazing to me. I was just getting into making beats too at that point. It was so far fetched, the idea that I'd one day be working with Dr Dre, but he's always been a part of my musical DNA growing up."
King Kendrick
With a host of high-profile guests appearing on his new album, Malibu, one in particular creates a segue to another topic of discussion. "I thought it was amazing," .Paak says of Kendrick Lamar's recent Grammy performance. "Although honestly, I haven't had a chance to really peep the whole thing. I've been on the road and I really haven't had the chance to sit down and watch that full performance, just little clips. But the clips I did see were dope."
Not all that aware of the backlash the TDE rapper received for choosing to use the Grammys as a soapbox to artistically air out his frustrations regarding police brutality, social injustices and the black struggle in America, the new Aftermath signee did have an opinion on the backlash.
"People should be pissed," he states. "People should feel strongly about the performance because nothing else seemed to be said about the Grammys, his performance was the talk of the entire event. So I think it served its purpose. It's a movement. That's what I like about Kendrick.
"Why shouldn't the Grammys as a high-profile event be used to deliver a message? If that's the case, what was the 60s and 70s about? Every event was used to talk about what was going on at the time. Remember the podium black fist salute in the '68 Olympics? People are just getting their panties in a bunch, and that's good. If people feel strongly about a topic they should say something."
A grounded man
Like his shows, Anderson .Paak ends the interview with a huge grin from ear to ear. The difference here being he now doesn't have hundreds of fans he needs to take selfies with or sign autographs for, which is precisely what he did at XOYO. "I think it's just because of the way I came up," he says of why he makes sure he shakes the hand of every fan he can. "That's just how I was raised. I've got two older sisters and a little sister. I grew up in a house full of women so I always had the more neutral peacemaker vibe going on, so that's just a part of my vibe.
"I'm interested in longevity. I want that real connection with the fans. I can't pretend to be an asshole who's super exclusive or whatever, that's just not me. At the end of the day I'm just having a good time, and my fans are a part of that."
Anderson .Paak's new album Malibu is out now via Steel Wool/OBE/Art Club.
---
Will Lavin is a hip-hop music & lifestyle specialist of ten years. A 2015 IMC award-winner, he's written for publications such as VIBE, XXL, Complex and Blues & Soul. He's worked with artists such as Chaka Khan, Timbaland, will.i.am. and Chris Brown. He also runs illwill.co.uk.
---