Andre Villas-Boas has set a target for his Tottenham side by telling the players that they must finish above Arsenal this season in order to achieve Champions League football.
Tottenham have not finished above their north London rivals since 1995, with fans forced to live in Arsenal's shadow as they have repeatedly contended for major silverware and competed in the Champions League.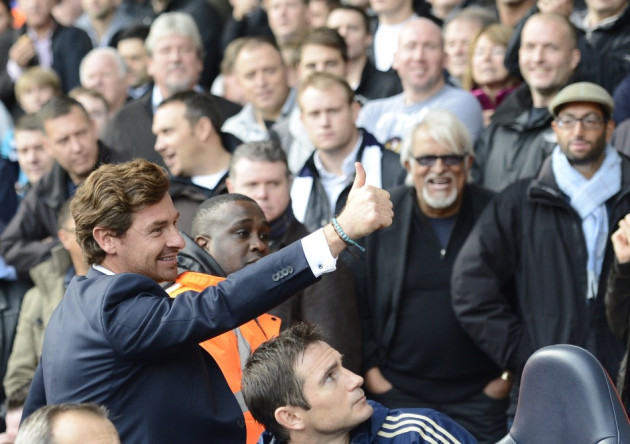 Spurs blew a 10-point lead over Arsenal last season under Harry Redknapp, and Villas-Boas has made it clear that he is well aware of the importance in finishing above Arsene Wenger's side.
With Manchester United, Chelsea and Manchester City already looking secure in their top four positions, the former Porto manager believes that fourth place will be up for grabs, leaving Tottenham and Arsenal to battle it out for the final qualifying spot for Europe's elite competition.
"Can we finish above them? We have to," Villas-Boas told the Independent. "From what I see, City and Chelsea are in the race for the title. We want to bring one of those spots closer to us but it's difficult as these clubs have other resources.
"Neither we nor Arsenal are where we want to be - the position in the League doesn't suit either of us. This time last year, we were higher up the table and had our poor period towards the end. We have both shown we can do better, though, and there is still time.
"I've been getting used to this derby for the last two weeks. The staff speak about it and the chairman keeps on mentioning it. It's normal and you have to embrace it. It's part of the greater culture of the game and it means a lot for both teams.
"I remember well from when I was Porto manager the games against Benfica. It was not a local derby but it was the 'clasico' of the Portuguese league. It was full of passion and people get ready to play a game like that. I've certainly felt the same thing this week.
"You understand the importance of it and the passion is very high. It is a game that represents only three points in the League but the history of the north London derby means that it is about more than that."
Tottenham make the short journey to the Emirates on Saturday, knowing that they can extend their advantage over the Gunners to four points if they are able to secure a victory.
They had looked as though they would cause an upset last season when they took a 2-0 lead, before an inspired comeback from Arsenal meant that they ran out 5-2 winners.
Spurs do have some injury concerns with Kyle Walker, Aaron Lennon and Jermain Defoe all missing the England defeat to Sweden through injury, while Moussa Dembele is also unlikely to return for the crunch clash.