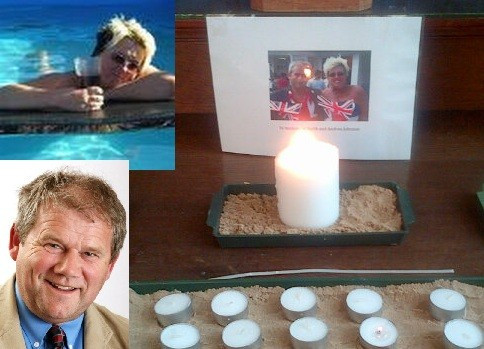 The father of Andrea Johnson, who died after being shot on Sunday, has condemned the Daily Mail for arriving at his front door with "no sympathy".
John Chadwick said the reporter arrived and asked him about "wicked things" other people were saying about his deceased 44-year-old daughter and her husband, Norfolk North Council Leader Keith Johnson, 58.
A post-mortem of the couple found both died from gunshot wounds. Police believe Mrs Johnson was shot first and then her husband turned the gun on himself.
The Daily Mail claims it was "well known" the couple were not monogamous, with a 'friend' telling the tabloid: "It was common knowledge that they had quite an open relationship."
Another told the newspaper: "A lot of people raised their eyebrows when Keith became the leader of the council. They were famous drinkers. She would quite regularly get so drunk that she would fall into people - and more."
The Daily Mail also suggested Johnson killed his wife over an affair.
Boycott the Daily Mail
Following the news of their daughter's death, a spokesperson for the Chadwick family said: "They are devastated by the loss of their beautiful daughter Andrea, she was a wonderful daughter, aunt and sister.
"She was so bubbly and full of life, she adored her family and has been tragically taken from us. She will be very sorely missed.
"Please leave us to grieve in peace at this sad time."
However, a reporter from the Daily Mail visited Chadwick's house and asked him what he had been told about the couple's personal lives.
Chadwick wrote on his Facebook page: "Grieving the loss of our daughter Andrea, & our son-in-law Keith, & we have the Daily Mail at our door with no sympathy message, but saying wicked things that he has been told for stories."
He also said the behaviour of the Daily Mail shows that press ethics have not improved since the Leveson Inquiry: "Following on from the Leveson Report, the national papers have not changed.
"Would we all boycott buying the Daily Mail to show the public have a say for truth, not gutter rubbish.
"RIP Andrea & Keith, you both will always be with us. Take care, love Mum & Dad."
Today, David Cameron met with around 20 editors at Downing Street to discuss media reforms. The prime minister told them they must produce a "tough, independent regulatory system, rapidly".
Cameron said: "They've got to do it in a way that absolutely meets the requirement of Lord Justice Leveson's report.
"That means million pound fines, proper investigation of complaints, prominent apologies, a tough, independent regulatory system."
Daily Mail editor Paul Dacre was absent from the meeting, it was noted.