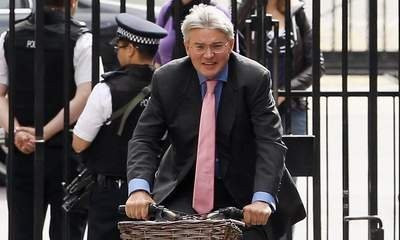 A police officer and a second suspect were arrested on Saturday 15 June as part of the ongoing investigation into the "plebgate" row that cost the former Chief Whip, Andrew Mitchell, his job.
The male constable, a serving officer aged 48 from the diplomatic protection group, was arrested on suspicion of misconduct in a public office on Saturday morning after Scotland Yard said it had received fresh information in the case.
A 49-year-old woman was also arrested on suspicion of assisting an offender, as part of Operation Alice, the investigation into whether officers lied about a dispute which led to the Tory MP for Sutton Coldfield being forced to quit the Cabinet.
Mitchell apologised for his part in the incident, which occurred when he was told not to take his bike through the main entrance of Downing Street last September.
The former Chief Whip admitted swearing at officers, but has consistently denied police claims that he described the officers as "plebs".
Mitchell insists he was victim to a concerted attempt by Downing Street protection officers to defame him, "toxify" the Conservative party, and end his career.
In February, Mitchell told Channel 4 News that he believed he had been "stitched up" by officers after CCTV footage appeared to contradict police versions of events.
The officer and the woman were arrested at separate addresses and taken to different police stations, one in London and one outside the capital, where they remain in custody.
The arrested policeman is one of four officers previously issued with a Regulation 15 notice, served following an alleged breach of standards of professional behaviour.
He has been put on restricted duties, and is expected to be suspended from the force pending the outcome of the investigation.
A Scotland Yard spokesman said: "On 4 June, officers working on Operation Alice received fresh information regarding the investigation.
"As a result of this information and subsequent investigations, the Directorate of Professional Standards has arrested two people, a man and a woman, at two residential addresses this morning."
The Independent Police Complaints Commission, which supervises the investigation, has been informed