Just like the smartphone market, Apple's early dominance of the tablet market is being eroded as Android devices take over.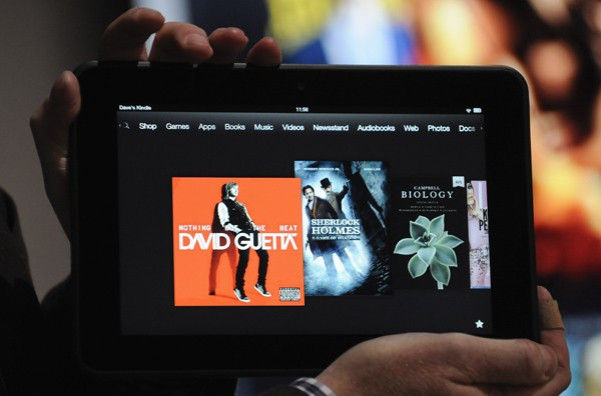 History is known to repeat itself and so it is with consumer electronics.
Like the smartphone market before it, the tablet market is readjusting to reflect a growing dominance of Android devices and a falling market share for Apple's iPad.
It could be claimed that Apple created both smartphone and tablet markets as we know them today. And just as the once dominant iPhone has lost its all-powerful position to hundreds of Android smartphones from the likes of Samsung, HTC and Sony, so Apple's once-dominant iPad is slowly but surely losing its grip on the tablet market.
Just 15 months ago Apple commanded 70% of the global tablet market, but according to the latest figures from research firm IDC, the iPad has slipped to less than 30% market share. The reason is the growing threat from Android tablets from the likes of Samsung, Lenovo and Asus.
No new iPads
The figures released cover the three months to the end of September, a period in which Apple didn't launch any new iPads which would have had an effect on the sales figures. Apple launched the new iPad Air and iPad mini with Retina display just last week and they will go on sale globally from Friday.
As a result of no new products in the second or third quarter of the year, Apple experienced a decline in shipments from 14.6 million in the previous quarter to 14.1 million in the most recent quarter.
Year-on-year, iPad shipments grew less than 1%.
Tablet market growth
Despite the stuttering Apple sales figures, the tablet market as a whole grew by 36% year-on-year and was up 7% compared to the second quarter of 2013. Just like the smartphone market, Apple's biggest challenger is Samsung, with the South Korean firm now commanding 20% of the tablet market and quickly closing in on Apple's top spot.
IDC said Samsung "owes a measure of its tablet success to its ability to bundle them with other successful Samsung products, such as smartphones and televisions."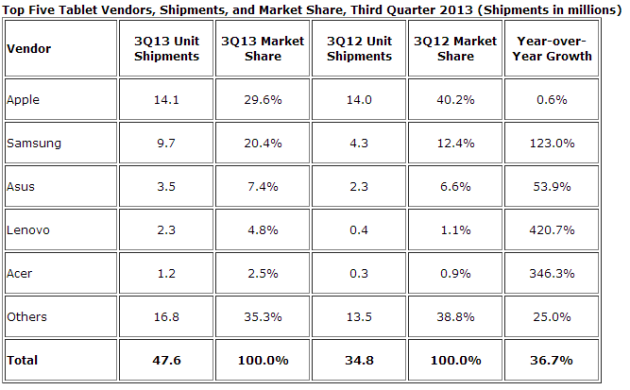 The rest of the top five is made up of Asus, which makes the Nexus 7 for Google; Lenovo which is the world's biggest PC manufacturer; and Acer, which saw a 346% increase in tablet shipments year-on-year.
The "Others"
One of the most striking aspects of these figures however is that 39% of all tablets sold came from manufacturers outside of the top five, giving an indication of the fractured nature of the tablet market.
IDC says it tracks "dozens of tablet vendors, and this quarter 'Others' represents a combination of major vendors (such as Amazon, Microsoft, HP, and Dell) and lesser-known, so-called white box vendors that typically sell ultra-low cost Android devices at often unsustainably low margins."
In the UK in recent weeks we have seen the introduction of a number of ultra-low cost tablets including Tesco's Hudl tablet (£119), the MyTablet from Argos (£99) and even a £49 tablet from the Carphone Warehouse.
One of the problems facing Android in the tablet market is one it is already dealing with in smartphones. Because of the open source nature of the software, it is used on many low-end devices which use cheap hardware components and result in poor experiences for customers:
Tom Mainelli, research director at IDC said: "Android's growth in tablets has been stunning to watch, but shipments alone won't guarantee long-term success. For that you need a sustainable hardware business model, a healthy ecosystem for developers, and happy end users."